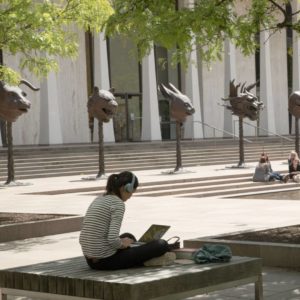 In my last post, I shared some tips on how to conduct research in history and emphasized that researchers should keep in mind a source's category (transcript, court document, speech, etc.). This post is something of a sequel to that, as I will share some thoughts on what often follows primary-source research: a history research paper. 
1. Background Reading The first step to a history research paper is of course, background reading and research. In the context of a class assignment, "background reading" might simply be course readings or lectures, but for independent work, this step will likely involve some quality time on your own in the library. During the background reading phase of your project, keep an eye out for intriguing angles to approach your topic from and any trends that you see across sources (both primary and secondary).
2. Themes and Context Recounting the simple facts about your topic alone will not make for a successful research paper. One must grasp both the details of events as well as the larger, thematic context of the time period in which they occurred. What's the scholarly consensus about these themes? Does that consensus seem right to you, after having done primary and secondary research of your own?
3. Develop an Argument Grappling with answers to the above questions will get you thinking about your emerging argument. For shorter papers, you might identify a gap in the scholarship or come up with an argumentative response to a class prompt rather quickly. Remember: as an undergraduate, you don't have to come up with (to borrow Philosophy Professor Gideon Rosen's phrase) 'a blindingly original theory of everything.' In other words, finding a nuanced thesis does not mean you have to disprove some famous scholar's work in its entirety. But, if you're having trouble defining your thesis, I encourage you not to worry; talk to your professor, preceptor, or, if appropriate, a friend. These people can listen to your ideas, and the simple act of talking about your paper can often go a long way in helping you realize what you want to write about.
4. Outline Your Argument With a history paper specifically, one is often writing about a sequence of events and trying to tell a story about what happened. Roughly speaking, your thesis is your interpretation of these events, or your take on some aspect of them (i.e. the role of women in New Deal programs). Before opening up Word, I suggest writing down the stages of your argument. Then, outline or organize your notes to know what evidence you'll use in each of these various stages. If you think your evidence is solid, then you're probably ready to start writing—and you now have a solid roadmap to work from! But, if this step is proving difficult, you might want to gather more evidence or go back to the thesis drawing board and look for a better angle. I often find myself somewhere between these two extremes (being 100% ready to write or staring at a sparse outline), but that's also helpful, because it gives me a better idea of where my argument needs strengthening.
5. Prepare Yourself  Once you have some sort of direction for the paper (i.e. a working thesis), you're getting close to the fun part—the writing itself. Gather your laptop, your research materials/notes, and some snacks, and get ready to settle in to write your paper, following your argument outline. As mentioned in the photo caption, I suggest utilizing large library tables to spread out your notes. This way, you don't have to constantly flip through binders, notebooks, and printed drafts.
In addition to this step by step approach, I'll leave you with a few last general tips for approaching a history research paper. Overall, set reasonable goals for your project, and remember that a seemingly daunting task can be broken down into the above constituent phases. And, if nothing else, know that you'll end up with a nice Word document full of aesthetically pleasing footnotes!
— Shanon FitzGerald, Social Sciences Correspondent