If you are a Princeton student, chances are you've spent some time at one or more of the University's many libraries. You've probably also checked out books and may have relied on a librarian to help you navigate the ever-confusing maze of stacks. These are roles we typically associate with Princeton librarians, but they are by no means exhaustive representations of what these experts have to offer. What many students don't know is that subject librarians are the hidden gems of Princeton academic resources. Librarians have helped me tackle difficult independent research projects, and you can take advantage of their incredible expertise too.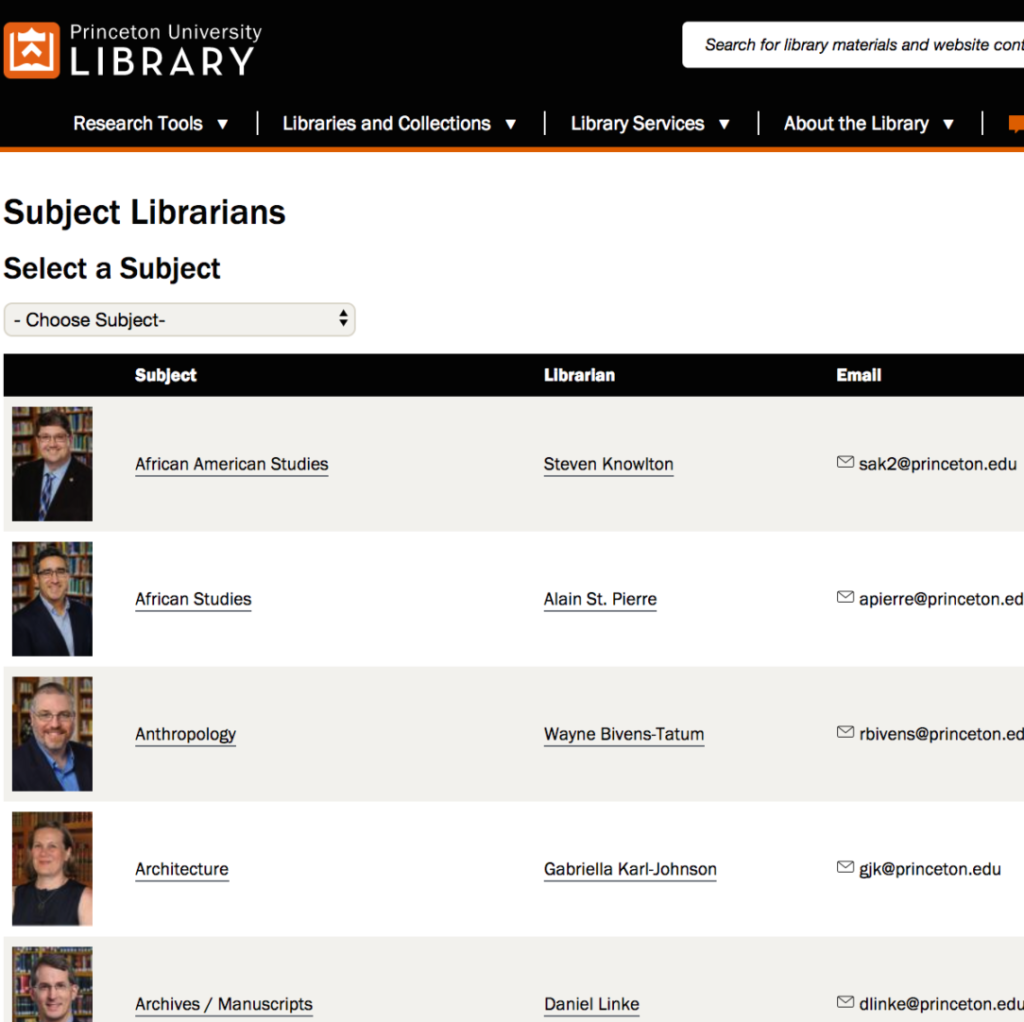 In the spring of my junior year, I wrote my Junior Paper for a Task Force in the Woodrow Wilson School on global health and international development. Specifically, I was researching how the U.S. Agency for International Development could increase demand for family planning services in rural Senegal. Up until that point, most of my independent research had focused on domestic policy, and I wasn't sure how I should go about searching for Senegalese sources and international data. My adviser recommended that I make an appointment with Dr. Elana Broch, a population research librarian based in Stokes Library. Eager for guidance, I sent Dr. Broch an email requesting an appointment and briefly explaining my research topic.
When I arrived at Dr. Broch's office the following week, I was amazed by the amount of resources that she had prepared for me. On her desk was a stack of relevant books that she had selected and a list of Princeton faculty members that she thought could be of further help to me. She showed me how to access online data sets on contraceptive usage and how to gather information on Senegal's governmental policies. Thanks to Dr. Broch's expertise, I left feeling infinitely more prepared to tackle my JP research.
I had a similarly helpful experience about a year later when I met with David Hollander, Princeton's Law and Legal Studies Librarian. I needed advice on how to conduct legal research for my Senior Thesis. I wanted to identify federal court cases addressing the provision of health care in U.S. state prisons and didn't know how I could methodically find this information. In our meeting, Mr. Hollander gave me access to a legal research database called Westlaw and showed me how to design a search to find relevant cases. Without his guidance, I wouldn't have known about the various research tools available on Westlaw that ultimately played an integral role in my thesis research.
These are just two of many positive experiences that I have had working with Princeton's librarians, and I am by no means unique—any student who has worked with a librarian can vouch for how helpful they are. The librarians' areas of expertise range from philosophy and religion to astrophysics, and each of them is an invaluable source of knowledge on their field of interest. Accessing their expertise is as easy as setting up a meeting via email, and there are a variety of ways for students to find the librarians they are looking for. The Princeton Library website has a useful list of the subject librarians by field. Furthermore, individual courses with a strong emphasis on research are often assigned a subject librarian for guidance. If you are a first or second year undergraduate, you can also reach out to your "personal librarian," a subject librarian who is assigned to you to provide general research advice (read more about that resource here).
Students sometimes feel too intimidated to set up a meeting with a librarian, especially if they think that they haven't done enough work on their own yet. However, the librarians are more than happy to meet with students at any stage of the research process, and no problem is too big or too small for them to address. Don't waste energy struggling to find resources—save time and ask a librarian.
— Emma Kaeser, Social Sciences Correspondent