This semester, in our spring series, PCURs will interview a graduate student from their home department who either is currently a graduate student at Princeton, or attended Princeton as an undergraduate. In Graduate Student Reflections: Life in Academia, interviews with graduate students shed light on the variety of paths one can take to get to graduate school and beyond, and the many insights gained along the way from research projects and mentors. Here, Emma shares her interview.
~~~~~
As part of our Spring Seasonal Series, Graduate Student Reflections: Life in Academia, I interviewed two students in the SINSI Graduate Program, Alex Wheatley '16 *20 and Nathan Eckstein '16 *20. The Scholars in the Nation's Service Initiative (SINSI) is a scholarship program designed to prepare students to pursue careers in the U.S. government. Students in the program spend two years pursuing an MPA in the Woodrow Wilson School and two years in a SINSI fellowship with an executive branch department or agency (often, but not always, between the first and second years of the MPA program). In my last post, the first section of this two-part interview, Alex and Nathan discussed their experiences as SINSI scholars in the MPA program. Below, they reflect on their experiences with research and public service work in the fellowship component of SINSI.
Emma: What role has research played in the fellowship component of the SINSI program?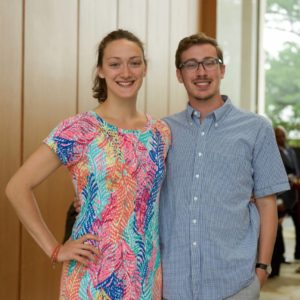 Alex: I've rotated through two positions thus far, the first at the Division of Viral Diseases at the Center for Disease Control (CDC) in Atlanta. Almost all the work I've done has been fairly traditional research. At the CDC, I built on the knowledge I gained from my thesis to help analyze and write up a review of the spatiotemporal dynamics of the same virus (respiratory syncytial virus) in the US over the last three years. The policy question we debated in that research was actually how to define "RSV season"; changing testing practices had affected the timing of the season, and we had to weigh various policy-related factors as we updated that definition of season. I also helped with an economic analysis of RSV burden in the US.
Nathan: Unsurprisingly, Alex has done a lot more research through her work than I have. I've worked in the Office of the Secretary of Defense for Policy, in Western Hemisphere Affairs, since last July. A lot of what we do is synthesizing and summarizing good research, but not academic research. We use a lot of open-source data—such as news, public opinion polling, or social media—and internal government reporting to develop our policy guidance and prepare our own leadership for engagement with foreign counterparts and senior U.S. officials. But in a lot of ways this is not traditional research, or at least not what you would see in a Ph.D. program.
A: It's really interesting how we've incorporated research in different ways, though. Goes to show all the different ways that "research", broadly speaking, informs policy. I think my second rotation is a little closer to your work, Nathan; I started at Health and Human Services' Office of Global Affairs, Asia-Pacific Office, here in DC in February. This office does a lot of synthesizing, coordinating, and summarizing. I'm working on a health policy project that reviews and evaluates US engagement in the health systems of the Freely Associated States in the Pacific (Palau, the Federated States of Micronesia, and the Marshall Islands). While my work at the CDC was fairly coding- and statistics-intensive, my current project is more qualitative and based on interviews and analyses of publicly available economic or health data.
E: What have you learned about the role of research in public service work?
N: There's a lot of conversation in foreign policy circles about incorporating data and metrics into policy making, but in many ways, there is often a disconnect between the realm of academia and the realm of public service. This disconnect is an oft-discussed topic—Foreign Policy just published some compelling articles on the future utility of international relations as a field. But in terms of the toolkit that academia gives you, it is all over. At an embassy, diplomats collect information from counterparts and news to write "cables" on select topics or themes of note. In the Pentagon's policy offices, many public servants focus on functional topics such as space, cyber, or counternarcotics policy. The public servants that work these functional desks frequently incorporate traditional research from think tanks, academia, or internal studies—and many have advanced degrees, where they wrote dissertations or academically researched in their own right. I think that is even more true the closer you get to departments that work in the economics or science realms, such as Treasury or the Department of Energy.
A: I'd like to believe that the best health policies are "evidence-based". With that framing, analyses and policies are often only as good as the data (evidence) they're based on. My rotations have shown me how difficult it can be to identify and collect (within a given operating context and/or time frame) the sorts of information that can be used to address the health/development/policy issue at hand. Even with great data, there's rarely consensus on the right course of action. Research for public service is well-intentioned, valuable, and difficult to do/utilize well. At least, that's how I see things right now—I'm still learning!
N: If Alex is still learning, I have even farther to go. I think it's fair to say we may have very different views on this in a decade or so, right Alex?
A: For the record, he's way too humble. But yes—we're just diving into all of this. Check back in a few years. I'm curious what future Nathan and Alex will have to say.
---
As graduate students who have pursued public service research both in the classroom and in the professional world, Alex and Nathan provide unique perspectives on the role of research in these different settings. Their point that informative policy research conducted in the academic world is not always incorporated into actual policy making struck me as having important implications for improving the design of research projects. How can we conduct research so that it is more accessible and applicable in the real world? This question is relevant for undergraduate as well as graduate student researchers and just one of the valuable take-aways from Alex and Nathan's interview!
— Emma Kaeser, Social Sciences Correspondent