Now that my thesis has been turned in, I'm starting to prepare for my oral thesis defense to complete my graduation requirements for the Woodrow Wilson School (WWS). It's certainly going to be a challenge to fit everything from my nearly 100-page thesis into that ten-minute-long presentation, but the WWS Program Office is very helpful in assisting students prepare for the defense. So, with this post, I hope to help demystify the whole thesis defense process for the PCUR audience.
The Wilson School provides a number of ways for seniors to prepare for their defense. For example, WWS provides a number of preparation sessions with past WWS students who are serving as Scholars in the Nation's Service (SINSI) scholars on campus in order to learn from their experiences with the thesis defense. In addition, Friday, May 4, WWS held its inaugural thesis presentation day, when WWS seniors presented their theses to each other, as well as to WWS juniors. This provided an opportunity for all of us to learn from each other, as well as to introduce the WWS juniors to the thesis process. Every senior who had signed up had ten minutes to present, which gave me practice for the actual thesis presentation. You have the option to include slides in your presentation, and I have included an example of one my slides below. I tried to distill my most important key findings into just a small set of slides.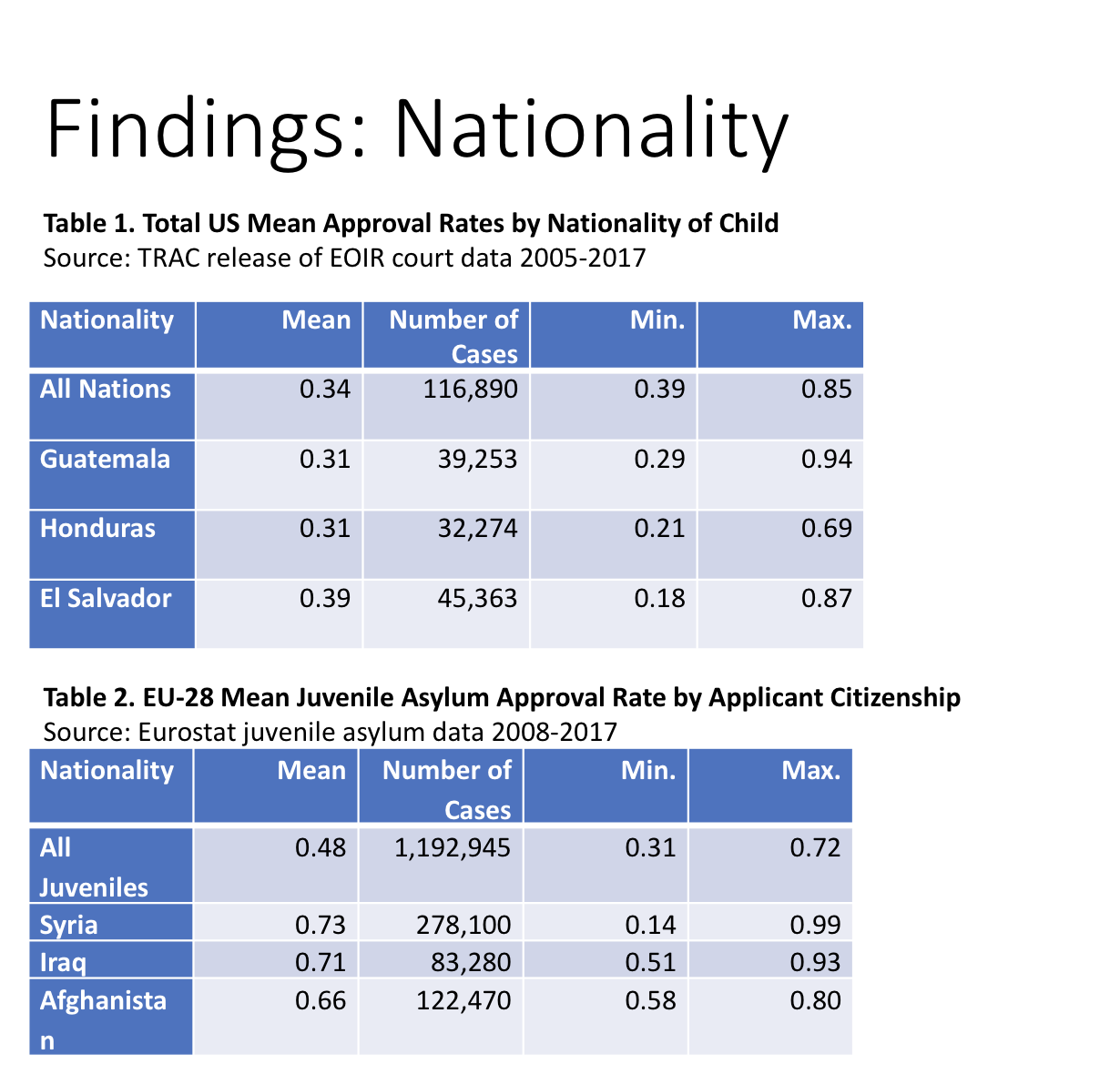 As for the defense itself, the day after Dean's Date, my defense will involve a 20-minute long session in which I defend the central tenets of my thesis, "Finding Safe Passage: Analyzing Juvenile Asylum Determinations in the United States and European Union," to my first and second readers (your thesis is read and graded by two people: your adviser and another professor who has methodological or topical familiarity with your thesis). Ten minutes of the session involve my own presentation, and the other ten minutes will be a question and answer session with my readers.
The defense will be a way to address any potential criticisms with my thesis and to think about potential future research. I've already gotten my comments back from my adviser and second reader, and one of the main criticisms that I plan to address is the lack of micro data, or individual-level data, in my thesis, which led to less specificity in my analysis than I would have preferred. There's not a lot I could have done about that in this thesis, given the logistical constraints placed on my research, but future research enterprises would potentially allow me to partner with the Transactional Records Clearinghouse (TRAC), the research clearinghouse at Syracuse University where I obtained my data, and obtain individual-level data. Other critiques involved how I had coded my variables, how I formatted some tables, or how I had justified some of my analyses. With more time, I might have been able to address those criticisms in my written thesis, but it just wasn't possible given the time and the resources I had available.
I'm confident, though, that with the preparation advice provided by the Woodrow Wilson School, I will be able to do well during the defense. My advice to other Wilson School majors or other students preparing for defenses is not to worry too much about the process. We all know our theses from top to bottom at this point, and the comments from your readers are mostly constructive.
As for next steps following the defense, I think that it would be really interesting to work to publish my findings elsewhere, thereby continuing the research process. As I wrote this post, I received an email from Princeton's journalism program about a workshop on publishing your thesis findings in journals, newspapers, or magazines. I sent in an application for the workshop. We'll see what happens!
–Nicholas Wu, Social Sciences Correspondent