[Note: This post was written before COVID-19 reconfigured our library access. Interlibrary Loan is no longer accessible for students, but its sister program, Article Express, is still running at full speed!]
Every so often, when reading sources for my thesis, I come across a citation for a book or article I can't find in the Princeton library catalog. Of course, given the size of Princeton's holdings, these moments are rare—though somewhat more frequent as I've entered the fine-grain stages of my research project. In the past, a dead end in the library catalog was enough to convince me to give up on a source. However, the exigencies of my last month of thesis writing have pushed me to use what might just be the most magical tool in the Princeton library toolbox: Interlibrary Loan (ILL).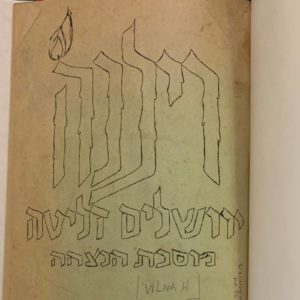 Whereas Borrow Direct and Recap only provide access to books listed in the Princeton library catalog, Interlibrary Loan can provide access to… pretty much any source you could possibly need. ILL has two main request options: Article Express (for scans of specific articles and book chapters) and Interlibrary Loan (for larger sources, like books, audio/visual materials, and microreels).
There isn't much of a difference between these two request types, though Article Express tends to send materials a lot faster than Interlibrary Loan. Whereas Interlibrary Loan can take two or three weeks to process and ship requested material, Article Express typically completes requests within one or two days (it sends digital scans rather than physical materials). A few weeks ago, when I requested a 1982 article from a since discontinued Israeli journal, I already received a scan of the source by the time I checked my email the next morning.
Although it is not nearly as fast as Article Express, Recap, or Borrow Direct, I've been shocked at the range of sources available through Interlibrary Loan. At this point, whenever I look up a source on WorldCat (see Alec's recent post for more on the wonders of WorldCat)—no matter how obscure it is—I place a request for it through ILL. Over just the past few weeks, I've received out-of-print Yiddish books from the 1920s, rare hardcopies of international journals, and microforms of archival materials. Because of ILL, I haven't traveled to New York City's archives all semester, ordering most of my materials to the comfort of Firestone instead.
Because Interlibrary Loan typically takes a few weeks, consider submitting your request a few weeks before you anticipate needing the source. Even if a paper isn't due for another few weeks, grab a few of the most recent books on the topic and scan through their bibliographies. Order everything that isn't currently available on the shelf and you'll be all ready to go when it's time to write.
To access the ILL website, just select "Interlibrary Loan" from the "Library Services" dropdown menu on the home page of the library website (or use this shortcut). From there, you can log in with your general Princeton username and password.
In a sense, ILL is to research, what online shopping is to retail. You're no longer limited by what's available on site—everything you could need is just a click away.
–Rafi Lehmann, Humanites Correspondent