We've all been there. We all know what it feels like to take a break⁠—whether it's on purpose or by accident⁠—from a lengthy paper; it can be overwhelming when you realize that you messed up your writing process timeline. Personally, I recently took a looooong break (think: three weeks, give or take) from writing my thesis. Part of it was by accident; due to COVID-19, all Princeton students were told to move out and head back home for the remainder of the semester. The stress of packing, saying goodbye to my friends and the campus, and moving out caused my thesis to take a backseat in terms of priorities. Once I arrived home, I purposefully decided to extend my break from writing my thesis in order to unpack, get settled, and get used to online classes. One day lead to the next, and suddenly, I had spent three weeks away from my thesis.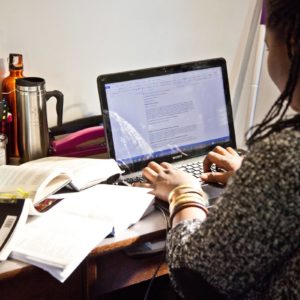 It's important to note that taking a break is different for everyone. In my case, I was already pretty advanced in my writing process and had close to a finished full draft. Because of that, the effects of taking a break weren't too drastic for me. However, I recognize that different situations would merit different reactions; for example, if I had very little of my thesis written prior to taking my break, I probably would have been much more panicked and stressed out.
Regardless of the situation, pulling yourself out of that slump is important, and the process deserves to be highlighted. Of course, what works for me may not work with everybody, but here are some tips that helped me get back on track:
Figure out your new timeline. I'm a very visual person, and I love planning things out on a small whiteboard or a piece of paper so I can easily see what my goals are. Decide how much progress you want to accomplish per day⁠—time spent writing per day, pages added per day, etc.⁠⁠—in order to meet your deadlines.
Communicate with your adviser. Your adviser is there to⁠—you guessed it⁠—advise you! So, make sure you communicate your new plans to your adviser so that he or she can support you accordingly. When I was choosing my adviser (see this post for tips on finding a thesis adviser), I purposefully looked for one that would be very active and hands-on with my writing process. I wanted an adviser that would check in on me and hold me accountable for the goals and deadlines we had set together⁠—not because I wouldn't meet those goals and deadlines otherwise, but instead, because I wanted to feel like my adviser is really involved and supportive throughout my writing process. So, for me, communicating my new plans and expectations for myself to my adviser after concluding my break allowed my adviser to better support me during that time. Moreover, especially with COVID-19, advisers are understanding to everyone's circumstances, and they won't hold it against students if you haven't gotten much progress done recently. Don't be scared to reach out!
Hold yourself accountable. Make it as easy as possible to reach your goals. Maybe block out some time in your schedule each day to write. Perhaps you could even establish benchmarks and incentives for yourself as motivation (I like rewarding myself with Netflix). Whatever works for you! Independent work can be difficult, since everything depends on you and your own initiative. Make sure you hold yourself accountable to the timeline you've set for yourself!
The first two tips can, of course, be switched around! Again: these tips may not be helpful for everybody, but they have definitely worked for me! It's important to remember that independent work naturally comes with ups and downs, and the writing process is rarely perfect. Sometimes, outside factors that are out of your control put a temporary hold on your writing, and that's natural! It's crucial to keep a level head and make a clear-cut plan to get yourself back on track and pull yourself out of your thesis-writing slump. Good luck!
---
⎯ Andrea Reino, Social Sciences Correspondent