In the spring of 2019, I wrote a post highlighting my positive experience at the 2019 American Institute of Chemical Engineers (AIChE) Regional Conference. Specifically, I encouraged other students to attend conferences and seminars within their department even when they felt as if they were too busy to attend, as these events can strengthen your academic experience rather than interfere with it.
Throughout the COVID-19 pandemic, in-person conferences and academic events have been replaced with virtual experiences that are now even more accessible to students, as you can attend without traveling far distances and at reduced or no costs. Although the virtual conference was undoubtedly different than the in-person one, I still felt the same, if not more, benefits from attendance. In this post, I will give advice on how to navigate a virtual conference, as I reflect on my takeaways from this experience.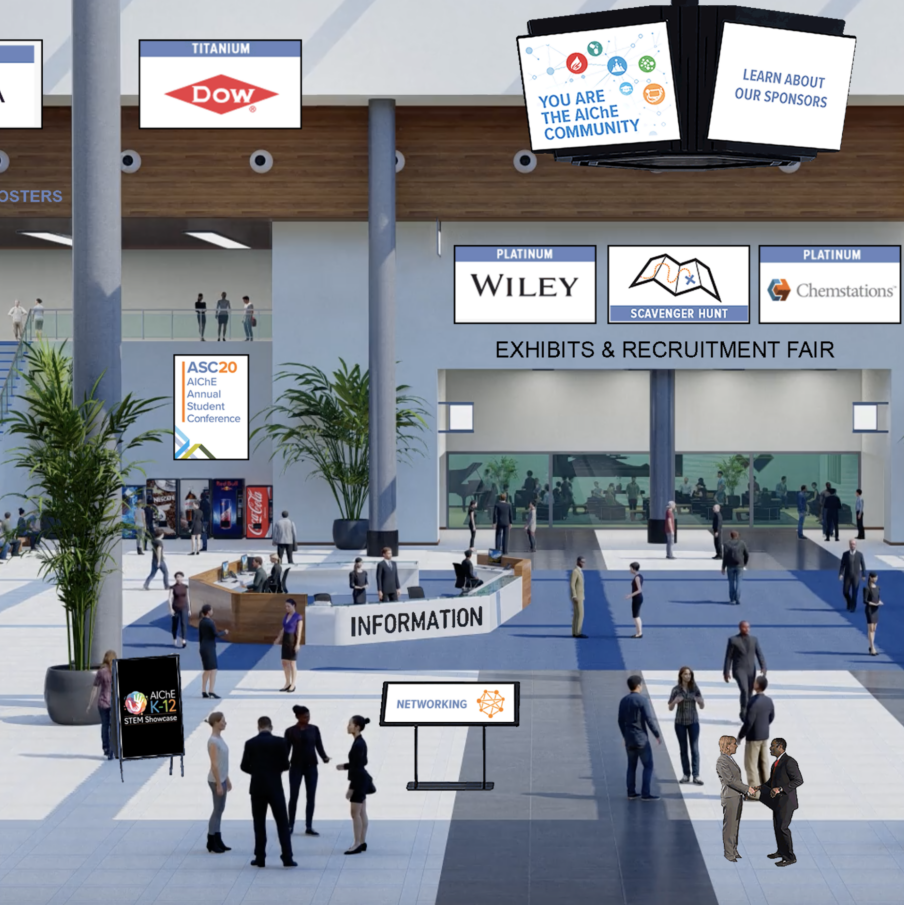 Take Advantage of Pre-recorded Keynote Speaker Presentations – The speakers and presentations were pre-recorded and made available for attendees to watch ahead of time. Each speaker was then scheduled for a synchronous session, in which participants could discuss and ask questions about the presentations we had watched. Take advantage of this flexibility by watching the sessions beforehand at your own time. Most of the live sessions were scheduled for Saturday evening, and I had to perform experiments in the lab on Saturday afternoon. However, I was able to watch the presentations on Friday night, and simply attend the discussions with the presenters on Saturday. Maximize the virtual aspects of the conference by creating a schedule that best works for you whenever possible.
Prepare for and Attend Recruitment Fairs – Both the 2019 and 2020 conferences included a recruitment fair with representatives from industry and from graduate school speaking about opportunities for students and faculty. Arguably, this was one of the events that I was most concerned with in terms of its virtual transition, as speaking with representatives would not be as easy as walking up to a booth and starting a conversation. However, the fact that the initial effort to start a conversation was greater meant each conversation was that much more meaningful. For the AIChE conference, attendees were able to browse through a virtual floor listing all of the organizations present and select to enter a chat room with the representatives as well as with other attendees, as seen from the image below. Throughout the weekend, I learned about job openings at various companies as well as about graduate school admissions at various universities. When attending a virtual career fair, prepare your introduction and questions ahead of time, so that you can introduce yourself as soon as you enter the chat.
Connect with Attendees Using Discussion Forums – Because attendees could not simply run into each other at the virtual conference as they would in-person, subgroup discussions forums were opened for people with similar backgrounds and interests to connect. Specifically, forums formed for different fields within chemical engineering as well as for attendees with common heritage. I was able to connect with the Latinx community attending the conference, which was particularly valuable, as I did not get to meet other Latinx attendees in 2019. If the conference you are attending has not yet formed sub-group discussions, consider starting one of your own!
Create Your Own, Flexible Schedule – When attending a virtual conference, study event schedule thoroughly so that you know how to participate in all of the segments that are offered. Know which segments are synchronous and whether it is beneficial to watch a pre-recorded component ahead of time. This way, you can plan your schedule for the conference. You will likely have the flexibility to choose which events you would like to attend, and when you would like to watch the pre-recorded portions.

—
In the midst of a semester where all of our classes are online, it felt refreshing to interact with other students and faculty in attendance outside of my regular classroom. Not only did I gain valuable experience from listening to keynote speakers discuss their contributions to the industry and by speaking to industry representatives, I also took a break from being online strictly for my classes. Ultimately, I share the same sentiment that I did in 2019: attending academic conferences is an enriching experience that all students should seek. Although the Chemical and Biological Engineering department sponsored the registration fees for this conference, if you do find a conference outside of your department that you would like to attend, be sure to apply to the Undergraduate Fund for Academic Conferences (UFAC) program.
—Saira Reyes, Engineering Correspondent