When I first walked through the doors of Theodore Sedgwick Wright Library at Princeton Theological Seminary (PTS) on a sweltering September day a few weeks ago, I was struck by three things: the great size of the library, the small number of students there, and its remarkably-strong air conditioning. As I set my things down and cooled off in a quiet study area, I began to work on an assignment for one of my classes. My gratitude for the engineers who designed the building's cooling system was quickly superseded by my admiration for those who worked together to produce the largest theological library in America and the second largest in the world after the Vatican Library in Rome.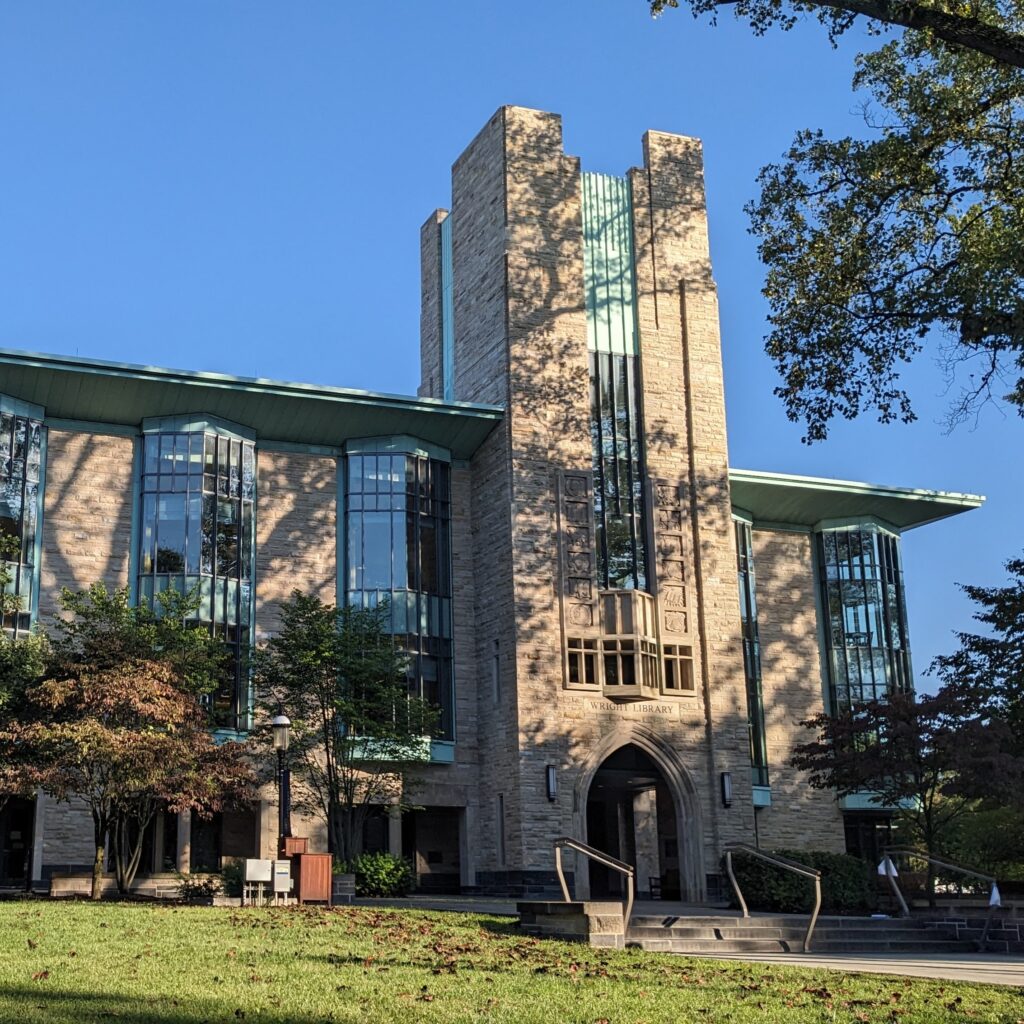 Theodore Sedgwick Wright Library is the main library at Princeton Theological Seminary.
Built in 2013 in order to consolidate all of PTS's collections under a single roof, the library was named in honor of Theodore Sedgwick Wright, a prominent pastor and abolitionist from the early 1800s who was the first African American to graduate from Princeton Theological Seminary. Wright Library houses roughly 1.3 million print and electronic books and journals in its collections and is one of the largest libraries in the world devoted to the study of religion. In addition, this collection is designed to be complementary to the collection at Firestone– for many years, there has been an informal cooperation between the Princeton University Library (PUL) and PTS Library systems which has minimized the overlap between them. If you're looking for a book about religion, and it's not in Firestone, there's a good chance that you can find it just down the road in Wright Library. While the library's collection is primarily devoted to the study of Christianity and theology, it also has rich collections on almost anything pertaining to religion. I've used books from Wright on topics ranging from Ethiopic grammar, to Jewish midrashim, to Christian-Muslim dialogue in the Middle Ages. While it's impossible to capture the full breadth of Wright's holdings in this brief space, this sampling gives an idea of how much is in the library.
All Princeton University students are eligible to borrow books from PTS. The process of registering with PTS is very simple and it takes only a few minutes. Once you are in the system, you can check out books using your prox. The library building is open from 8:00 A.M. to 9:00 P.M. Monday-Thursday, and has more limited hours Friday-Sunday. Most undergraduate dorms are located about as close to Wright as they are to Firestone, and in some cases Wright is even closer. My dorm, for example, is a 12-minute walk from Firestone and an 11-minute walk from Wright. Yet, this tremendous resource is rarely ever utilized by Princeton undergraduates.
Maybe you're writing a Junior Paper or Senior Thesis and would like to incorporate religion into the scope of your work. Perhaps you've been scouring the shelves on Floor 2 of Firestone but can't find the right book for a Dean's date paper. Maybe you have a burning interest in Frederick Douglass, the Gospel of John, or Armenian liturgy which just can't be satiated by the PUL collections. If any of these describe you, then you should take a look at the Wright Library Catalog, walk over to 25 Library Place, and check out the world-class resources that PTS has to offer.
— Shane Patrick, Humanities Correspondent