In the summer of 2016, it is difficult to find optimism in the field of environmental science.
Yet last month, I gathered with a throng of 2,500 coral reef scientists for the International Coral Reef Symposium (ICRS) in Honolulu. Knowing the extent of the tragic coral bleaching and death that has unfolded on coral reefs this year, I expected a week of doom and gloom. But, to my surprise, the conference gave me more cause for hope than for pessimism.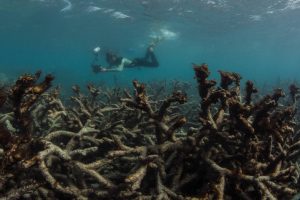 This is not because the situation facing coral reefs is any better than I'd thought – if anything, it's worse. Rising greenhouse gas concentrations, warming waters, and stagnant politics have put the biodiversity of coral reefs, along with many other ecosystems, into a sharp decline. On the Great Barrier Reef – a vibrant ecosystem so structurally significant that, unlike the Great Wall of China, it can be seen from space – nearly 25% of coral is dead, from this year's bleaching alone. At one panel at ICRS, researchers shared photographs and time-lapse footage of coral bleaching and subsequent death around the world. As they flicked through photo after photo, the conference hall adopted the atmosphere of a funeral.
No, things are not looking good for coral reefs, or for many other ecosystems struggling to keep up with the whirlwind of environmental change that stems from human overpopulation, consumption, and industrialization. One scientist, Peter Sale, called coral reefs a "canary" in the proverbial coal mine that is our changing earth. "There are a whole bunch of canaries that are at risk," Dr. Sale said. "And when the canaries go, our civilization goes." Continue reading On Action and Optimism: Notes from the 13th International Coral Reef Symposium