Many first years who come to Princeton are interested in doing research, but are too intimidated to pursue it when they arrive on campus. Conducting research in a laboratory can seem like something only juniors and seniors do as part of their independent work. But there are definitely ways to get involved in research earlier as a first year or sophomore. This week, I decided to interview my friend, Janie Kim '21, about her experience working in a natural sciences lab as a sophomore, to help shed some light on the process of joining a lab early.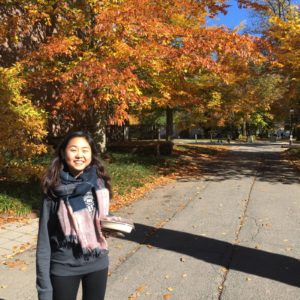 Here's a little bit about Janie first 
Janie Kim is a sophomore at Princeton University who will be majoring in molecular biology. She is doing research on small molecules secreted by marine bacteria in the Donia Lab. On campus, she is also involved in the CONTACT Crisis Hotline, Princeton Public Health Review, and the Arch & Arrow Literature Magazine. She loves sculpting and adores sci-fi unashamedly.
Why did you decide to do research in molecular biology?
I chose Natural Sciences in general because, in what other field do you get to ask a million questions, search for answers, make progress, fail, make progress, and then just keep asking questions? In what other job are you able to publish failures that became discoveries and it be considered a success? Also, there are not many set boundaries so you can go wherever you make discoveries in, which is scary, but it's also exciting because there's nothing boxing you in. I chose molecular biology because I think it's really cool how living systems can be so neatly organized down to each molecule but also so random and unpredictable at the same time.
How do you start to look for a lab?
Scroll through the [molecular biology] website and you'll see that it's divided into research areas like biochemistry, genetics, microbiology, and cell biology. You can click on those and it shows you all the professors and all the labs. If you already have a subfield you've set your heart on, you can find the labs that work on that topic pretty easily. Or if you're not sure, you can look around. You just click on each professor's picture and read about what their lab's research focus is on. Then pick a couple that you're most interested in and go through their recent publications. Each of them has their own web page with their own publications. See what you're drawn to, read about it, see if you're even more interested.
What should you include in an email when you're trying to reach out?
As you read their papers, there are usually questions that you'll find you have about their research, like something they may not have fully answered or a concept or technique that you weren't clear about. Including those questions in the email is good since it gives you a chance to get some cool answers straight from the source, and it also shows that you're interested in their research and can take initiative. Include what career path you're interested in, because I feel like most PIs and mentors will change their mentorship strategies depending on what you're interested in. If you have had any research experience, definitely include that. It's good to write a bit about why you find their research interesting. It also helps if you say what you think you could gain from working in the lab and what you think you could contribute to the lab as well.
What do you consider to be most important when choosing a lab?
I think there are two most important points. One, obviously, you should be interested in the topic. Ideally the Google-it-and-read-about-it-for-fun-when-you're-bored kind of interested. Two, lab environment, which you can get a feel for by emailing other undergrads currently in that lab and asking them specifically, "I was interested about what the community is like, what the mentorship is like, and whether you feel comfortable in the lab."
What do you mean by lab environment?
It kind of encompasses everything. Do people seem collaborative? Do people around you seem friendly? Excited about their work, and excited to share that excitement with you? In some labs, you'll work very closely with a grad student or a postdoc. They might tell you what you need to do, when you should do it, when they want you to be there, and set hard deadlines for you. But then other labs will be more like, you design your own experiments, you think through your project all the way from planning your experiments to collecting data to analyzing and troubleshooting, you set your own schedule — you're not working under a grad student or a postdoc and you're navigating more independently under the looser guidance of the professor and collaboration with the other lab members. It's a matter of what you feel comfortable with—I prefer independence, and I'm lucky and grateful to be in a lab where I'm given that freedom. Then there's just fun stuff — like some labs might have hangouts like holiday parties, sometimes they go hiking together, or they throw birthday parties for lab members… find what you like and think you can learn best from.
How much previous experience did you have in the particular research field that your current lab focuses on?
Even if you had zero research experience, I think you could definitely do well. Pick a lab where someone will be able to guide you closely as you learn, but I don't think there is an expectation in any lab for undergrads to have extensive experience.
Do you have any additional advice?
If you want to start research just go for it — shoot emails. You're bound to find something. Take advantage of the low number of grad students and extreme focus on undergrads. Of course, this is assuming you've thought carefully about the time commitment of joining a lab and decided that you're up for it. Expect to be running into lab in between classes to make sure that your experiments are running!
A reflection from the writer:
As someone who has wanted to get involved in research on campus for a long time now, talking to Janie was definitely an eye-opening experience. For any first years or sophomores that are interested in joining a lab, I would recommend following Janie's advice — "just go for it"!
(For reference, here's a past PCUR post that goes into other tips to consider when reaching out to faculty, and how to find faculty in departments other than in the Molecular Biology Department.)
—Nanako Shirai, Natural Sciences Correspondent