After late hours on the B-floor and that last-minute citation dash, you never want to see that Dean's Date paper again. I know the feeling. Over the past few years, I've developed the terrible habit of sending in my papers before reading them over – in a short-sighted attempt to avoid confronting my mistakes. But sometimes, as I've learned, the final draft can offer the most important learning opportunities.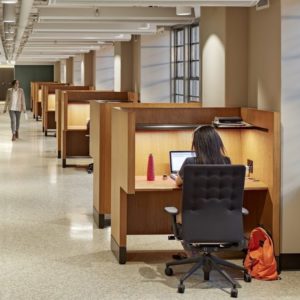 In my experience, very few professors share feedback on final papers beyond the letter grade. And there is something satisfyingly simple about the "grading machine" – send a paper in one end and receive a letter grade on the other. However, this process obscures some of the more personal and pedagogical elements of an instructor's grading.
Professors dedicate a significant chunk of their time each semester to reviewing and grading students' work. They're expert readers, writers, and researchers – you don't want to miss this opportunity to receive their feedback. Each professor's approach to feedback is different, but I can almost guarantee that they'll have something insightful to say about your final project.
If grades go up and you haven't received your professor's comments on your work, send them an email! Ask them if they have comments on your work and if they would feel comfortable sharing them with you. Alternatively – or additionally – you can ask if they might be willing to meet in person to discuss their feedback. Without taking the initiative and sending that first email, you may never find out what your professor thought of your work. You may miss valuable feedback – comments that may stay with you for years – even if it's just an email away. Plus, you win serious brownie points for staying engaged with a class even after grades are finalized. It's a great way to show professors you care about their mentorship and are interested in maintaining a relationship with them beyond the class.
These after-semester email exchanges have given me some of the most useful writing feedback I've received at Princeton. After my first-year spring, I remember debating whether or not to email my history professor for her comments on my paper. I had already seen the grade on TigerHub, but wondered what she had to say about it. I shot her an email and within a few hours, she responded with a long, thoughtful email response, as well as a copy of my paper with comments in the margins of almost every page. Many of those comments have stayed with me, guiding my writing process even after multiple semesters of history courses. Additionally, seeing how much she cared about my work actually made me feel more comfortable reaching out to her in the future.
Don't miss this priceless opportunity to receive personalized feedback from your professors. There's still time to send your first emails. Even if you never want to see your paper again, or feel scared of what a professor might say, give it a try. Your professors will probably surprise you.
–Rafi Lehmann, Social Sciences Correspondent