As Princeton students, we generally like hectic schedules. As much as we complain about impossible p-sets, extensive readings, and multiple extracurriculars, we often feel as if we need to constantly be busy. Thus, we fill up every minute of our schedules because a packed schedule makes us feel as if we are pushing ourselves to constantly operate at full potential.
I intended to pack my schedule like this last semester by joining the bioengineering lab where I researched the metabolic pathways of yeast cells over the summer. (You can read more about my experience by looking at some of my previous posts).  It seemed logical for me to continue working in the lab during my sophomore year, as this would provide me with both experience and extra preparation for junior independent work and eventually my senior thesis. But because of scheduling problems and sophomore funding issues, I was not able to continue working during the fall.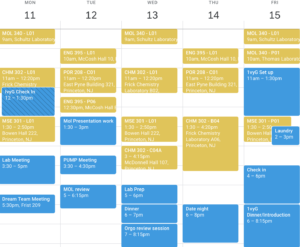 At first, I felt guilty for not taking the opportunity to work in the lab. I did not take initiative early enough to research sophomore funding options, such as the Andlinger Center's Independent project fund and the CBE department fund. So, whenever I had free time during the semester, I felt as if I had a choice to push myself to work harder, and I had chosen not to take it.
But as I reflect back on my sophomore fall semester, I realize that not continuing lab work last semester was ok! I had an extremely busy semester, and even if I wanted to, I would not have been able to fit independent lab work into my schedule. Had I started lab work, I likely would have felt overwhelmed, and not only would I have lost the free time that I did have, I also would probably have dropped some of the extracurriculars I am a part of. Although I had a busy semester, I found time to spend with friends, attend fun events on campus, and to relax whenever I could. At times, it felt as if I could have been doing more, but this unstructured time allowed me to have an enjoyable sophomore fall.  
Having some free time in your schedule does not mean you are not pushing yourself to full potential. This time is necessary to reflect, recharge, and relax at times when your mind and body need it the most. Though it may seem as if we need to fit research and all sorts of courses and activities into our schedules, it is important that we recognize when we have too much on our plates. It is also important to be content with having free time in our schedule and with not pursuing every opportunity we encounter. Instead of feeling guilty, appreciate the free time you have by doing things you enjoy, such as taking a relaxing walk across campus.
–Saira Reyes, Engineering Correspondent