For this year's Spring Seasonal Series, entitled Post-Princeton Life: The Experiences of PCUR Alumni, each correspondent has selected a PCUR alum to interview about what they have been up to. We hope that these interviews will provide helpful insight into the many different paths Princeton students take after graduation. Here, Raya shares her interview.
~~~
Teaching, travel, Congress, the Writing Center, political theory, Yale! Former PCUR chief correspondent Isabelle Laurenzi graduated from Princeton in 2015 with a degree in Religion. She has since gone on to pursue an array of adventures and projects. Most recently, Isabelle completed her first year of a Ph.D. program at Yale in political theory. For our seasonal spring series, I caught up with Isabelle to learn more about her time at Princeton and explorations after. In our conversation, Isabelle and I connected over our shared interest in interdisciplinary studies and the joy of pursuing one's interests through varied avenues.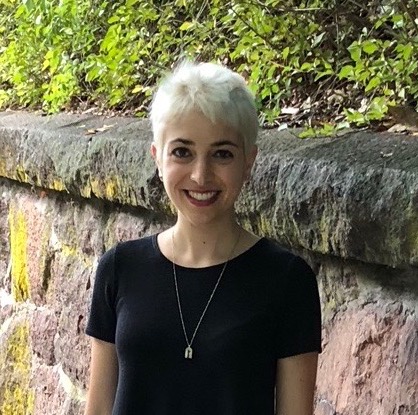 To quickly catch you up, since graduation, Isabelle taught as a writing instructor at Princeton's Freshman Scholars Institute (FSI) for a summer, taught as an English teacher at a private school in New York as part of a two year fellowship program, worked on a congressional campaign in her hometown for Mikie Sherrill who now serves in Congress, tutored a student with special needs, traveled a bit, and then applied to graduate school. Now, she is working on a Ph.D. in political theory at Yale where she also works in the Yale College Writing Center!
To get to know Isabelle a little bit better, I started by asking about her time at Princeton, and how she chose her major. At the beginning of her career at Princeton Isabelle found herself attracted to a collection of subjects. She developed interdisciplinary interests that would last after graduation.
"My freshman year I did the humanities sequence which was influential. Afterwards, I was trying to figure out where to do philosophy, ethics, but also literature, and I really wanted to be doing something interdisciplinary. I went down the philosophy route for a little bit. Then I thought I would do German instead. Eventually, I landed in the religion department, and it was the perfect fit. I also got certificates in creative writing and humanistic studies."
Isabelle also explored writing outside her creative writing courses with a position in the writing center and on PCUR's team, for a year as chief correspondent. Isabelle told me a bit about the writing center's goals at the time: "The writing center wanted to move beyond being a place for just the first years in the writing seminars, and I spent a lot of time thinking about how to build programming so that writing was something students of all years talked about more." Specifically, creative writing was a special subject for Isabelle. "Creative writing was a significant part of my life. I did a lot of creative work on campus, and I was in the Edwards collective when it first started my junior and senior years."
I noticed Isabelle hadn't done the teacher prep program while at Princeton, so I asked her: How did you decide to teach? Was that something you wanted to do for a while?
"It was actually one of my mentors from the women's mentorship program at Princeton who had suggested I start teaching. At that point…teaching wasn't really on my radar. Even though I was doing all this work thinking about writing and pedagogy, and I loved doing my work in the Writing Center, it kind of felt out of the blue when my mentor suggested I do a fellowship or teach at a private school." Though teaching wasn't something she had considered before, in many ways teaching was a very logical application of the skills and interests she had practiced at Princeton. Commenting on her time teaching sixth and tenth grade English, Isabelle told me, "The job I had for two years was a really great way for me to get classroom experience. Also, it allowed me to have a lot of freedom in the class. There was just a very broad curriculum, and that kind of experimentation was really wonderful and, I think, really crucial to my development as a teacher."
Now that I saw the connection between teaching and her undergraduate career in religion and creative writing, I asked her: How did you decide to go to graduate school?
Isabelle told me "I really liked teaching, but what was nagging me when I was a teacher was that I missed doing my own work. As much as I loved getting students thinking creatively, I missed doing my own reading and writing. There was creativity and experimentation in the classroom, but I wanted to be writing and producing work."
My question then was why political theory? I found her answer to this question most interesting.
"Until my thesis defense, I had thought my thesis was just about some of John Milton's religious and ethical ideas as they related to politics. But in my defense and in that conversation with my adviser and second reader, I realized, "Oh, this does count as political thought: political, religious and ethical thought!"
"I had a great time writing my thesis. It certainly wasn't linear… but I liked that craziness of the process and also what I was writing about. I thought, 'Ok, I have a solid start, but I am not done with these questions yet, so if this is political theory, then I want to do what political theorists do!'
"I did more thinking on this when I actually stepped into the application process because I could have done a History or English program. And more generally, it is a pattern that my interests are never clearly in one discipline. But of all the options political theory seemed the best option. In part because, in English or History, I would have to select a time period to concentrate and I didn't want to narrow in that way. I also liked the idea of being a person a little at the margins of political theory. Not an outlier, but just someone who was also thinking about religion in relation to political theory rather than doing a religious studies program and occupying a more similar space."
Lastly, I asked Isabelle what she was looking forward to. She answered with another interest of hers that has always been there–her creative interests.
"In some way being in graduate school allows me the flexibility to work on some of those [creative] projects." In the future, Laurenzi hopes to start pursuing the creative professionally.
—
As I heard Isabelle's story, I traced a theme throughout her adventures: no matter what label was selected or what position she chose to pursue, her interests and passions remained the same. From teaching to graduate school, from Princeton's Writing Center to Yale's, from religion to political theory, her interests in creative writing, ethical thought, and helping/mentoring others have been consistent. What I admire most about Isabelle is how she has ventured about and explored applying these consistent interests in various positions and fields. I, as a young student with interdisciplinary interests in computer science, design, and psychology, feel really encouraged by Isabelle's experiences. In all her responses to my questions about her various experiences, her core interests reappear. As Isabelle summarizes, though she has ventured into teaching, tutoring, consulting, and now graduate school, "the core interests and questions that are motivating [her] research are still the same." Isabelle inspired and encouraged me to try different projects and roles and see how my skills can be applied in different settings.
The topics that interest you most will keep reappearing in different situations and keep nagging you to give them more attention.
One thing that we can all learn from this conversation is how to identify our core passions. A month or two ago, I was serving on a panel about extracurricular exploration and independent work, and a first-year student who was confused about their major asked me a question along the lines of:  "When you're interested and curious about so many things, how do you know what it is your truly passionate about?" It was a great and difficult question that I at the time struggled to answer but have since been thinking a lot about. My conversation with Isabelle has brought me closer to an answer. One thing that Isabelle and I have both experienced is that the topics that interest you most will keep reappearing in different situations and keep nagging you to give them more attention. So maybe the answer is that you do not have to search for your passion; instead, reflecting and looking back at your experiences and finding the common threads would help you uncover the interests that are core to you.
—Raya Ward, Social Sciences Correspondent