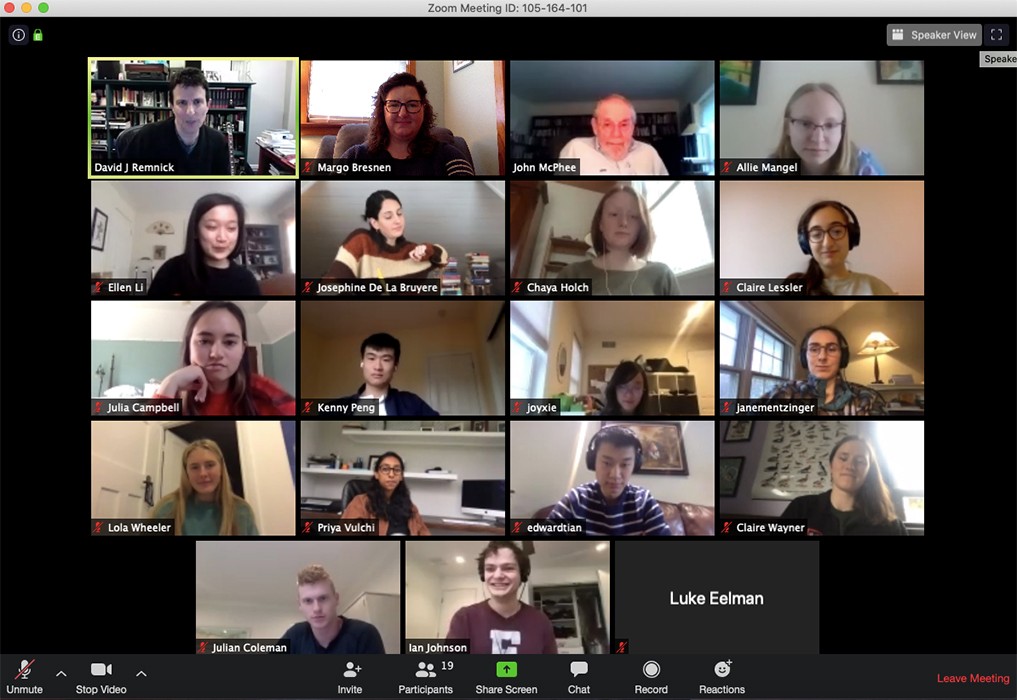 If there is one thing we as students have mastered in the COVID-19 pandemic, it is Zoom and the Zoom environment. Looking back to last spring, it is admirable how educational institutions and students adapted to an unprecedented global crisis and continued with their academic and non-academic roles. Here at Princeton, the transition to Zoom was relatively smooth given the uncertainty and fear at the time. Although the initial stages of scheduling an online semester were difficult, there was a strong desire to sustain many of Princeton's activities for the virtual campus community. The concerted efforts of students, faculty and staff have paid off. The three semesters of virtual learning I've had so far mimicked almost all the characteristics of the usual in-person experience I've come to expect at Princeton, including access to office hours.
The main medium for virtual interaction is Zoom, and it has been adapted for almost every facet of university activity, from school clubs and organizations to school hosted events and webinars. In this post, I will take a closer look at the Zoom office hours, their many advantages and in some cases, how they are actually better than in-person ones. I will then offer some suggestions for making the best use of Zoom office hours this spring.
Before the pandemic, I remember the times when I would wait for my instructors, outside their tiny offices, huddled with fellow students. For one of my classes, after walking the whole distance from Butler to EQuad in nail-biting cold weather, I was forced to wait even longer before it was my turn to talk to my professor and ask questions. Once inside a professor's office, my friends and I would sometimes sit in a corner or on the floor because of a shortage of seating options. Privacy was non-existent and every question was posed while fellow students listened in, making it harder to express one's question freely. Furthermore, for professors who attended to only one student at a time, there were days when office hours ended with students still waiting to ask their questions. These are just a few of the challenges associated with in-person office hours.
Office hours held in Zoom have many advantages over in-person ones:
The first advantage that comes to mind is convenience. We can attend Zoom office hours from anywhere (and enjoy comfortable sitting too!)
The second upside of meeting in Zoom is efficiency; when you are in a Zoom waiting room with other students, Zoom maintains an accurate queue for the professor to follow (and also be aware of the number of students who need help so they can plan accordingly).
The third advantage of Zoom office hours is privacy; each individual can be assigned their own breakout room to work on a problem and ask the professor their questions when they hop into the room; professors can easily move in and out of the rooms to assist all attending students.
In addition, the Zoom platform has some interesting built-in functionalities which can make the overall experience more connective. One example is the share screen function which we can use to go over lecture notes and slides with our preceptors or professors.
And finally (and perhaps more importantly!), interactions with professors can be much less intimidating over Zoom than during in-person meetings. This is one of the main barriers to attending in-person office hours. In Zoom, there is less fear and shyness when compared with in-person meetings.
Now that I've convinced you (I hope!) of the many advantages of Zoom office hours, here are some tips for you to consider if you want to attend more of them this spring.
I find it helpful to put office hour schedules on my calendar, in addition to my course schedule. If a class offers office hours from many instructors and preceptors, I can easily schedule attending one or two of them that work the best on my calendar.
Another strategy I follow to increase my use of office hours is to formulate big-picture questions when I'm doing homework or studying for midterms. While it may be tempting to search google when you have a question about the course material, keep in mind that talking to your instructors will help you understand the material at a deeper level or look at it from a different perspective.
To keep engagement high while taking a virtual course, there is nothing more helpful than talking to a professor or a preceptor who loves their field. Go to office hours and interact with them as much as possible! If it is in person – great. If it is on Zoom – all the better.
⎯ Yodahe Gebreegziabher, Natural Science Correspondent