As a sophomore planning on declaring in neuroscience, I've been wondering a lot about the types of research projects neuroscience majors do for their independent work and senior thesis. To get a better feel for these projects, I've been reaching out to neuroscience faculty, sometimes via cold emails – a task made easier with the help of this post. However, I recently wanted to reach out to one of my current neuroscience professors in particular, both to hear more about his undergraduates' research projects and to develop a better relationship with him.
Building positive relationships with your professors is important and rewarding. It's easy to regard getting to know professors as a purely professional opportunity: that is, for the purposes of soliciting a recommendation or finding a lab position. However, this process is rewarding in other equally important ways: for example, I enjoy when professors explain the trajectory of their own careers, since it has helped me clarify my own academic and extracurricular interests. Often times my meetings with professors have developed into personally meaningful friendships that I hope will extend beyond my time at Princeton.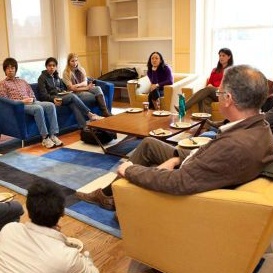 Although most of us would agree its important to build relationships with professors, it can be more difficult to know how to accomplish that. How do you approach a professor? Where and when do you meet? And what do you actually say to them? All of these questions ran through my head as I wondered how I would go about meeting the neuroscience professor I mentioned above. Meeting professors can be nerve-wracking – that's why I've put together the eight tips I used that streamlined the process.
Continue reading How to Schedule a One-on-One with a Professor