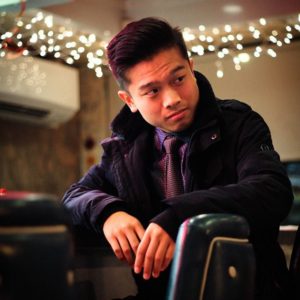 A couple of weeks ago, I interviewed Kristin Hauge about her independent work in the Music Department to highlight creative independent work in the arts. This week, I got in touch with Edric Huang, a senior in the Anthropology Department with certificates in Urban Studies and Creative Writing. Unlike most students on campus, he will be writing two theses this year. One is the classic research-based thesis that seniors in the sciences and humanities are familiar with, but the second will be a collection of poems for his Creative Writing Certificate. If you are unfamiliar with the kind of work that goes into creative theses, here's what Edric had to share about his personal experience:
What topics do you write about in your work?
I've been thinking a lot about superstitions and hauntings lately, especially the ones that come up in conversations with my mom. Sometimes, she'll tell me about Chinese folk superstitions that she or our relatives believe in, and it amazes me how these superstitions create worlds around us all — how they protect us, create conflict, stimulate us to action. I also write poems based on my anthropological fieldwork this past summer when I visited a migrant reception center in Paris and studied the survival strategies of Sudanese refugees who had made it there. Patterns of migration inevitably weave together a lot of my poems, both from a personal lens and through my observations.
How do you go about doing research for your poetry?
In some ways, attentively living is research for my poems. By paying attention to minute details, or lingering a little longer and taking a photo of a particularly arresting image, I naturally make connections to other life experiences or other topics. I recently walked along an industrial street in Brooklyn, and the scene, which reminded me of the 1992 LA Riots, created a starting point. An image creates the language from which I can begin to write.
But research for poetry can take many forms. I look to answer several questions: How do other poets write about certain topics, and how does the form of poetry create a chance to speak about something and speak to someone? How do these other writers use the page? I've read a lot of Asian-American writers lately, trying to figure out how I can write my "Asian-Americanness" into my poems. When I draw inspiration from specific poets, songs, etc., I will mention at the beginning of the poem that I am writing "after" something. For example, I wrote a poem after listening to Jhene Aiko's new album, and included some lyrics from her song into mine.
I also do research on the topics I want to write about, especially if I don't already know much. I believe that as someone who wants to use poems to grapple with myself and the larger processes that affect or surround me, proper representation of certain themes, histories, etc. cannot be done without a genuine investment in this research process.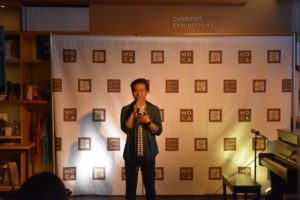 Are there any work habits you find to be helpful?
I tend to set limits on how much time I allow myself to spend on this research because I often get so engrossed with some topics that I forget that I still have a poem (and a second thesis…) to write. I also have been trying to free-write by just spewing out lines onto a Word document — with my computer screen dimmed out completely. I edit and judge a little too much, and I've come to recognize that there's a time and place for critique, but it can't come too early or I won't get past the first five lines of a poem. When I do edit  my work, I try to keep my writing minimal; I want each word to have gravity and to say as much as possible about the poem. Writing is such an individual process, though, and I'm still trying to find the best practices for me.
What are your plans for your creative thesis?
The standard poetry thesis consists of 30-40 pages of poems, and I hope to use this not only as a way to grow personally and sort through a lot of my complicated emotions around these topics,  but also as a starting point. I'm not sure what I'm doing post-grad yet, but no matter what, I hope to continue writing, editing through this manuscript, and revisiting a lot of these topics that I've been thinking about for the past three years.
Whether you're a poet or not, Edric's experience shows how there are several ways of going about research. When it comes to inspiration, you could draw from your personal experiences, from previous works that have intrigued you, or even from pausing to take a closer look at your surroundings. The writing process too is not set in stone and can involve a little experimentation to figure out what works best for you. If you're looking for more tips on research and writing, you can visit the McGraw Center or the Writing Center. Moreover, if you're interested in finding out more about creative writing, you can speak with a Peer Arts Advisor or apply for a class through the Lewis Center!