On Friday morning, I encountered a manuscript no historian had studied before. I was on the C Floor of Firestone in the Rare Books and Special Collections Reading Room, finding it hard to believe my luck. I had asked Gabriel Swift, the Reference Librarian for Special Collections, if he knew of any interesting primary sources connected to my Junior Paper topic, an 1805 Lenape religious revival led by a woman named Beate. In response, he connected me with this new acquisition, a handwritten journal from 1774. Just this year, he explained, the University had purchased it at auction in Paris. And because it was from a private collection, the source was previously unknown to academics.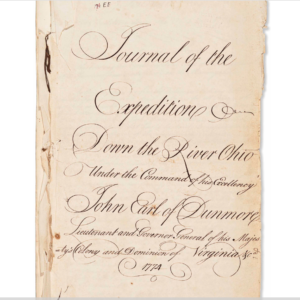 This is just one example of the magic of Princeton's Department of Rare Books and Special Collections (RBSC).
According to the RBSC website, "its holdings span five millennia and five continents, and include around 300,000 rare or significant printed works."
With just a few simple steps, you can see one of the first "Wanted" posters for John Wilkes Booth, Beethoven's music manuscripts, or Woodrow Wilson's love letters. It is one of the most fabulous and underutilized research resources on campus – especially for historians. As undergraduates, we have nearly complete access to the collections.
But finding what you need can be difficult – so I've collected a few tips and tricks I've learned in the past few weeks:
LOCATING MATERIALS:
There are two types of RBSC databases: core databases and subject-specific databases.

The core databases contain all or most of the material in the RBSC. For most research projects, these databases will be the more useful option.
The subject-specific databases focus on specific collections, like the Catalog of Princeton University Senior Theses and the Visuals Database for Graphic Arts. These are useful if you know you're looking for a specific type of material, especially if it's Princeton-related. To browse the list of subject-specific databases and learn more about your database options, check out the Catalogs & Databases page on the RBSC website.

There are two core databases, each comprising approximately half of the RBSC.

The main Catalog covers all of the RBSC printed materials, maps, and graphic art. To access this catalog, select "Rare Books and Special Collections" under the "Library" menu on the left-hand side of the screen.
However, because so much of the RBSC material is difficult to locate, the Catalog may only get you so far. For a more detailed search, use the Library Finding Aids. Designed specifically for finding rare materials, this database provides much more information about each object in the collections, including abstracts, descriptions and histories, related topics, and inventories. The Finding Aids database also allows you to search by collection or topic.
Oftentimes, searching for materials requires bouncing between these two databases and experimenting with your searches.

Because of the nature of the RBSC materials and the evolution of cataloguing practices, locating relevant materials will probably be more challenging than a catalog search on the standard Library website. Many materials – especially the older collections – are not well-marked in the catalog and can be difficult to locate using keyword searches. Be prepared to spend a good amount of time playing with spellings and search restrictions in order to locate the material you need.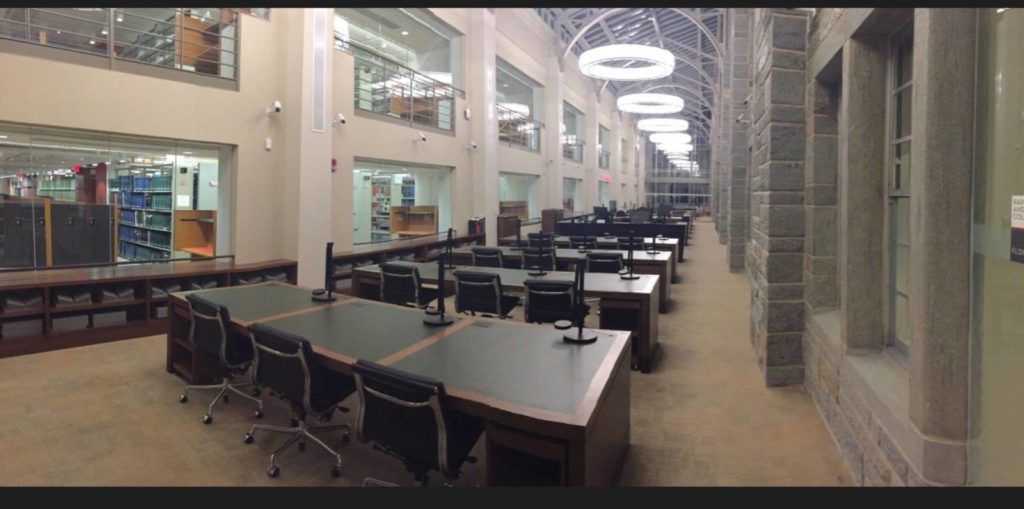 BEFORE YOUR VISIT:
To save time, register with the RBSC before your visit. The form takes only a few minutes to complete and you'll only have to do it once.
Be sure to request your material ahead of time. Though the RBSC Reading Room is located in Firestone, only a fraction of the collections are stored there. Many RBSC materials are kept off-site at the Mudd Manuscript Library or RECAP. Accordingly, it can take up to two days to send material to the Reading Room. Requesting your material ahead of your visit will ensure that everything you need will be ready for you when you get there. Even if your material is at Firestone, it typically takes 20-30 minutes to retrieve from the vault – ordering ahead will cut the wait time to 2-3 minutes. You can request material through the Catalog, the Finding Aids, or your RBSC account.
For security reasons, bags are not allowed in the RBSC Reading Room. You can, however, bring a laptop, a phone, a pencil, and a notebook inside. Store everything else in one of the C-Floor lockers before signing in. Note that pens are not permitted in the Reading Room. Remember also that RBSC materials are not allowed to leave the Reading Room — the librarian on duty will bring your material into the Reading Room when you arrive, and will return the material to the shelf when you leave.
If you have any research questions, contact one of the RBSC librarians to set up a consultation. In my experience, they are always happy to meet with students to help us navigate the catalogs and locate the materials we need.
Despite the relative complexity of accessing the RBSC,  it is one of my favorite research resources on campus. I hope this guide helps you explore the collections and discover some new treasures for your research.
–Rafi Lehmann, Social Sciences Correspondent