I went to Paris! Not just for fun—although it's a dope city—but to get some thesis research done to narrow down a topic. In the first part of this series, I mentioned how I submitted an application for funding to research advertisements in museum archives and libraries in Paris. My goal was to narrow down the initial research question I had at the very beginning of my research process: how Public Service Announcements (PSAs) subvert the capitalist practices within traditional commercial advertising. My goal was to see the advertisements that inspired the French theorists I'll be drawing from in my thesis. But, alas, there was one problem—when faced with an entire archive of advertisements, where do I even begin??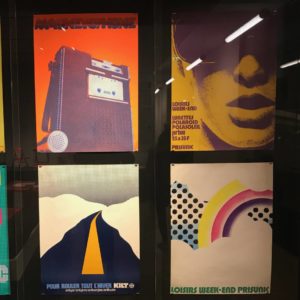 I spent most of my time at the Bibliothèque Forney, a library specializing in design and the decorative arts. I emailed ahead of time to speak with one of the librarians, who wanted to get a sense of my argument and which advertisements he could direct me into researching according to my response. After explaining my general thesis topic and the research I had done in my previous two JPs (pro-tip: explaining a thesis topic in a foreign language is a good marker for how well you understand it—or rather how much you don't), he responded bluntly: "You really need to narrow this down." My face fell. That's exactly what I was trying to do, the very reason I was in that library. I didn't have a corpus of ads, which is what I was in search for in Paris. I had kind of hoped to look at a vast layout of ads and just be naturally drawn to an era, a medium, a theme, or product, but I quickly realized it was far too unrealistic to be able to survey three hundred years of French advertisements and just hope that a few of them would speak to me so I could write eighty pages about them. The librarian asked me how much time I had to write my thesis, suggesting one to two years, and I chuckled, slightly panicked, and said "six months."
Flash forward from the meeting: I'm in Paris, skimming books on advertisements, viewing video ads at the Cinema Library in Les Halles, and photographing ad posters at the Museum of Decorative Arts (right next to the Louvre!). A 1980s poster advertising a ski lodge seemed, to me, just as interesting as cigarette ads from the 1800s, and modern perfume ads I took pictures of in the metro. I was accumulating more and more information, more notes, photos, and making infinite observations, trying to connect a million ideas at once without narrowing anything down to a key one, which was exactly counterintuitive to my purpose in Paris. Everything seemed important and nothing was intuitively seeming more important to me than anything else. I flew home not any more confident in the scope of my thesis than before.
I was so overwhelmed, I didn't revisit my jumble of ad hoc research notes until the day my outline was due (sorry to my thesis adviser if you're reading this). I did some more mindless searching of advertising archives online, doing the exact same thing I did in Paris, and getting overwhelmed all over again. I sat up in my bed trying so hard to listen to my intuition and dig at the core of my motivation for writing this thesis. Why was I writing about PSAs? What did I want to accomplish by writing my thesis? What bigger question was I trying to answer? I knew I had asked myself these questions before when writing my JPs, so I revisited my motivations for writing them. I wanted to research advertising because I was fascinated by the idea of a creative medium being able to disseminate a message on such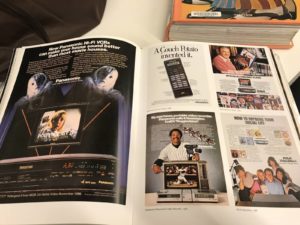 a mass scale. I was drawn to PSAs because I liked the idea of using the mass medium of advertisement to motivate people towards a social cause, especially using a medium that's normally used to get people to consume instead of contribute (which is the core of my subversion argument). I began to think—what social cause was I passionate about enough to write about? The answer popped immediately into my head: climate change. After being satisfied with the Google Images results of "climate Change PSAs," I had one half of my thesis argument down: PSAs with a climate change focus were subversive of…which types of commercial advertisements?
A quick Google search of "environmental advertisements" pulled up an article on "greenwashing" ads—think about an advertisement with a bottle of Tide sitting on grass, backlit by the sun, proclaiming how it's using 35% less plastic in its products. I had a literal "a-ha" moment with my argument. Greenwashing ads are traditional commercial advertisements that use environmental awareness as a selling point, still promoting consumption, whereas climate change PSAs used advertising to bring attention to the global crisis without an ulterior motive of selling a product. Even more so, climate change is a result of the excesses of capitalism (think: fossil fuels), and Climate Change PSAs use a medium that traditionally promotes capitalist consumption.
But, let's not forget my research from Paris! I remembered after discussing advertising history with the librarian at Bibliothèque Forney, how fascinated I was with the medium of the poster. It's the medium I wrote the most shorthand notes on and took the most pictures of. My research in Paris had helped me narrow down a corpus of ads not by subject, as I was expecting, but by medium: print advertisements. So, voilà! My current thesis argument: climate change print ads are subversive of the traditional capitalist practices of greenwashing ads. I was so stoked—I had a thesis argument that felt original, intellectually stimulating, relevant, touched on the social issue that I'm most passionate about, and opened up a larger dialogue on how art can be a tool for systemic social change. The outline poured out of me at that point. This whole process of synthesizing four days of research in Paris took about four hours.
So, that's where we're at! I have a thesis topic narrowed down, a loose outline, and so much motivation (no kidding—I'm actually pumped). The next step is the most daunting: beginning to write consistently when I don't know exactly how my argument is going to pan out. Can't wait to tell you all how it goes.
—Elise Freeman, Humanities Correspondent