Have you ever wanted to learn Photoshop or make a 3D model? Maybe you're trying to edit a video or record a podcast?
This year, I have become a frequent visitor to the Digital Learning Lab (DLL), an interdisciplinary, digital creative space located in Lewis Library. I first visited the DLL in the fall in order to borrow a drawing tablet to make a digital illustration for an issue of Nassau Weekly. Since my first introduction to the DLL, I have continued to learn more about all that is offered there, and I had to share!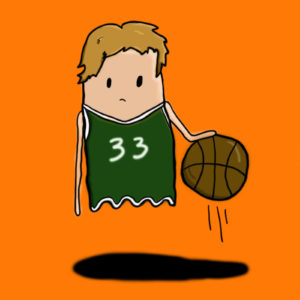 WHAT IS THE DLL?
The DLL is a lab of computers, scanners, tablets, a recording studio and more. It is open seven days a week and is stocked with all the equipment and software you would need to record a song, edit a photo, design a webpage, make a 3D model or visualize data–essentially all the tools to make awesome multimedia projects. The DLL is located in Lewis Library on the main floor across the hall from the double-door entrance to the library tower. 
DLL specialist, Olivia Grah '19 shares why she loves working at the DLL:
"I first came to the DLL for its graphic design software and Wacom tablet. I was new to digital illustration and had been making complicated graphics using Microsoft Word — a painful experience. The student staff at the DLL got me up to speed on Adobe Illustrator and Photoshop basics and that lead to further exploration of graphic design. In the years since, I have used the DLL for record digitizing (MP3 files of vinyl from Princeton Record Exchange), basic audio editing, and most recently for its statistical software for thesis research. The DLL computers connect to the H: drive and have much more computing power than my laptop."
"The student staff at the DLL got me up to speed on Adobe Illustrator and Photoshop basics…"  – Olivia Grah '19
RESOURCES for DESIGN, AUDIO, and FILM
The DLL has 24 Apple Mac Pro computers with 32 GB RAM and large 27-inch displays. These machines are equipped with the Adobe Creative Cloud, Apple audio and film tools, prototyping software and data tools such as Adobe Illustrator,  Apple Final Cut Pro and Motion, and Audacity. Sketch is available for prototyping, Rhino for 3D technical drawings, and Blender for animation. Further, if you are interested in dealing with data, the computers have Processing, R and R Studio, and STATA.
Beyond software, the DLL has Wacom drawing tablets available for use, scanners for documents, film and transparencies, an audio studio for recording, and the tools necessary to digitize analog audio and film.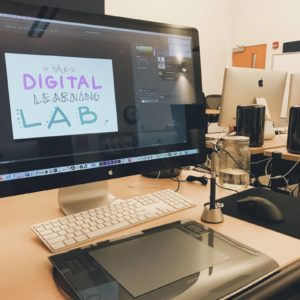 I used Adobe Illustrator, Photoshop and a Wacom tablet to make my illustrations for Nassau Weekly, but I am now looking to explore some of the prototyping and web design software as I start to explore User Experience design. I have never used this software before, but that's okay since the DLL offers numerous forms of instruction.
HELP!: Tutorials, Workshops, One-on-ones
Don't be scared away if you don't know how to use any of this equipment or software! The DLL is equipped with over 20 student specialists who can teach you and help you with your projects.
You can find a directory of DLL student staff here listed with their specialist. Staff members are available during open hours for help, or you can reach out to a specialist in the area you are interested in to schedule a one-on-one.
Additionally, each semester the DLL host a series of workshops. Stay tuned for them to announce spring 2019 workshops. Specialist, Olivia Grah '19 hints this semester's workshops will be geared toward a growing interest in web development and user experience design!
This semester's workshops will be geared toward a growing interest in web development and user experience design!
On their "How do I do that?" page, the DLL provides answers to FAQs and tips/tricks for working with their equipment. This instructional information complements the instruction available in Lynda.com, an online education resource that all Princeton students get a free subscription to Lynda online courses provide in-depth tutorials on a range of programming languages, software and digital tools.
WHAT'S NEXT: Renovations and additional resources
Exciting news! The Digital Learning Lab is being renovated this summer in order to make the space a better teaching space for professors and instructors who use the space in their courses.
Ultimately, the DLL is an amazing space full of a variety of tools that you can apply all over campus. For example, just this week I visited the DLL to use the drawing tablet to make a digital illustration for the latest issue of Nassau Weekly, I drafted a poster design for an upcoming event in the Art Museum, and I used the scanners and Adobe software to digitize a project for my entrepreneurship class. From data to design, audio to film, the DLL has resources for any creator. 
Here at PCUR, we know Princeton has a wealth of underrated resources, and we understand that these resources often aren't used simply because students don't know about the tools available. To learn about more awesome resources like the DLL, check out previous posts on library guides, course selection, the Rare Books and special collections, career services, and Lynda.com! Additionally, if at any point the DLL open-hours don't align with your schedule, you could also check out the J Street Library which has similar resources and their Equipment Lending program.
I hope to see you soon at the DLL!
— Raya Ward, Natural Sciences Correspondent