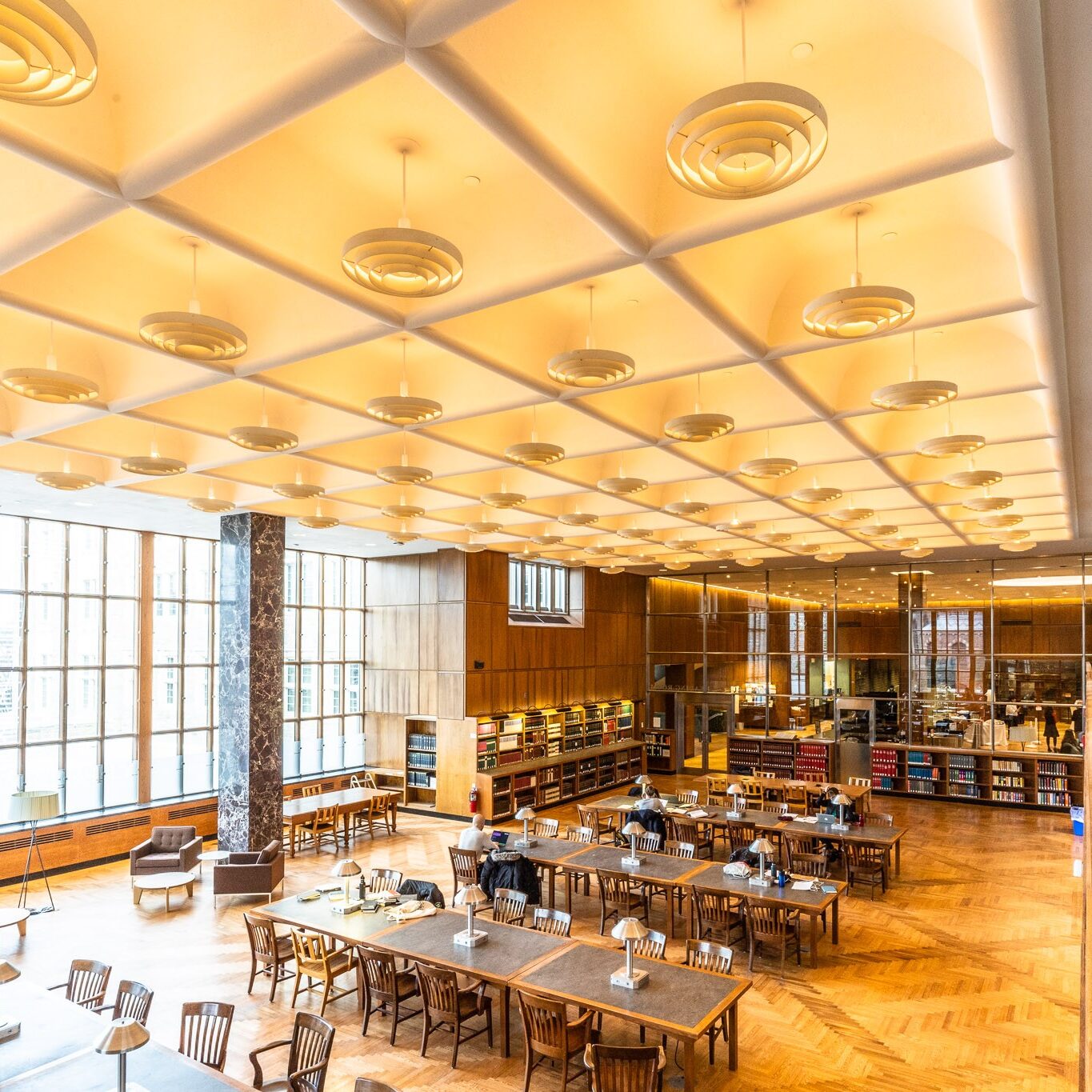 Beginning a research project is often a daunting task. Often, when I begin a project, I have the vaguest idea of what to research. Sometimes, I don't know where to begin looking. Given that Firestone is one of the largest open stack libraries in existence, there are literally millions of books, journals, anthologies, and other pieces of literature to sift through. The process of identifying the literature that will propel a research topic is thus often the most tiring part, but thankfully, there is a solution: the wonderful Princeton librarians!
So, who are these librarians?
In fact, each undergraduate student at Princeton is assigned their own personal librarian. This librarian is supposed to act as your direct liaison between the library system and yourself. You can go to them to receive guidance on how to navigate the stacks, learn how to take advantage of different workshops and programs, or even just have a chat. My personal librarian, Ellen Ambrosone, almost always sends me an email every semester to remind me of her services. Often, she also includes a picture of her dog! Regardless, these librarians are meant to be friendly faces in a huge space, so do reach out to them with any inquiries about your research or the library system writ large!
The Princeton University Library system also hosts a large array of different subject librarians, each specializing in their own discipline. For example, Steven Knowlton is one of the subject librarians for both History and African American Studies. Thus, a student interested in a topic pertaining to History and/or African American Studies might want to reach out to him in order to identify literature that may be pertinent to your research topic.
So, how do I reach out to them?
Thankfully, it is easy to contact these librarians. Not only can you access them through this general request form for any inquiry, but their contact information is also publicly available. Moreover, most of these librarians are in approximately the same location: the A-level of Firestone.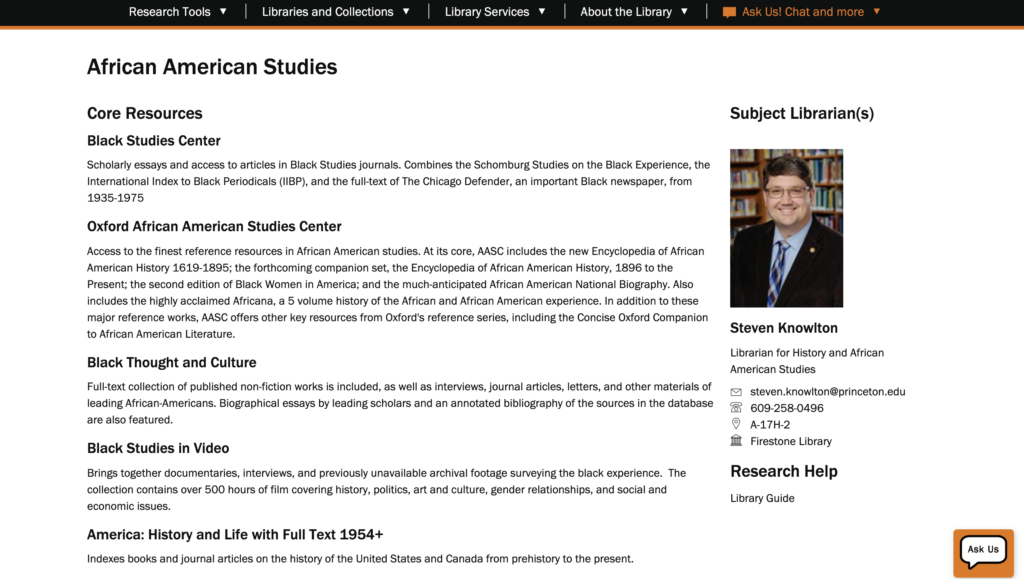 If you have a specific librarian you want to talk with, you can definitely reach out to them. On each of their "about pages," their research area, email, University phone number, and office are all publicly available. It is encouraged that if you need absolutely any degree of research help – whether it is finding services, asking for new purchases, or understanding how to use an interlibrary loan – to send them an email. Additionally, you can set up an appointment with any of them if you need specific help.
When emailing them, it's important that you take the time to describe what you're interested in. For example, if you are looking for sources about the Vikings in England in the eleventh century, you should communicate this clearly to the librarian. This way, they can quickly and efficiently help you solve the research problem that you are facing.
So, what can they do for me!
As I was hinting to in the last part of this, they can do a lot! Usually, you will be reaching out to them to identify the sources that you need for research, as it is extremely difficult to quickly and efficiently find relevant material to get started. Remember, these are expert librarians who specialize in a specific field; not only are they familiar with the literary canon of a given topic, but they know how to navigate a digital database like the Princeton University Library website.
These librarians will also help you think about your research topic in different ways. For instance, when I met with Steven Knowlton my first year to discuss a history project, he encouraged me to think about what other topics might be related to what I was investigating. What areas were my topic related to? Why was I interested in this topic? These questions help the librarian focus their own searches, as the more focused the student's questions, the more targeted the librarian services can be. Thus, not only will you gain new literature to help explore your topic, but assistance in refining your research question.
There are other services these librarians provide, too. When I was doing research over the summer of 2020, I had questions about book digitization. While the library system has an in-house digitization service, the librarians I reached out to helped procure E-books that I could access from home. And as I said, they are open to any questions; even if they can't answer them, they will point you in the direction of your answer.
So, what now?
If you ever need research help, reach out to one of the wonderful subject librarians, or say hello to your own personal librarian! You can also check out the different library guides these librarians put together, which give you advice on how to move forward on your research, as well as our previous articles about these guides and the uses of subject librarians. Just remember, the librarians are there to help you as you explore the large and often scary academic world that is higher education and Princeton. Thankfully, by providing you with the books and help you may need to jumpstart your research, these librarians make that process just a little bit easier.
— Austin Davis, Humanities Correspondent