Reflecting on my first year, I think about how quickly time flies. I've thought about how much I've changed over the course of a year and how my discussions with my peers and professors already began to shape the way I viewed the world. As an engineering student, Writing Seminar was especially memorable because it opened the door for me to engage with research in the humanities.
All first-year students are required to take a Writing Seminar. My seminar, WRI146 – Constructing the Past, taught by Dr. Emma Ljung, centered on the theme of how the past is closely intertwined with the present. In retrospect, one of my most pivotal periods in the course was the process of writing my R2, which focused on artifacts from the Princeton University Art Museum. Interested in delving deeper into my Chinese cultural background, I chose to work with the Guang, a dragon-headed bronze pouring vessel from the late Shang dynasty.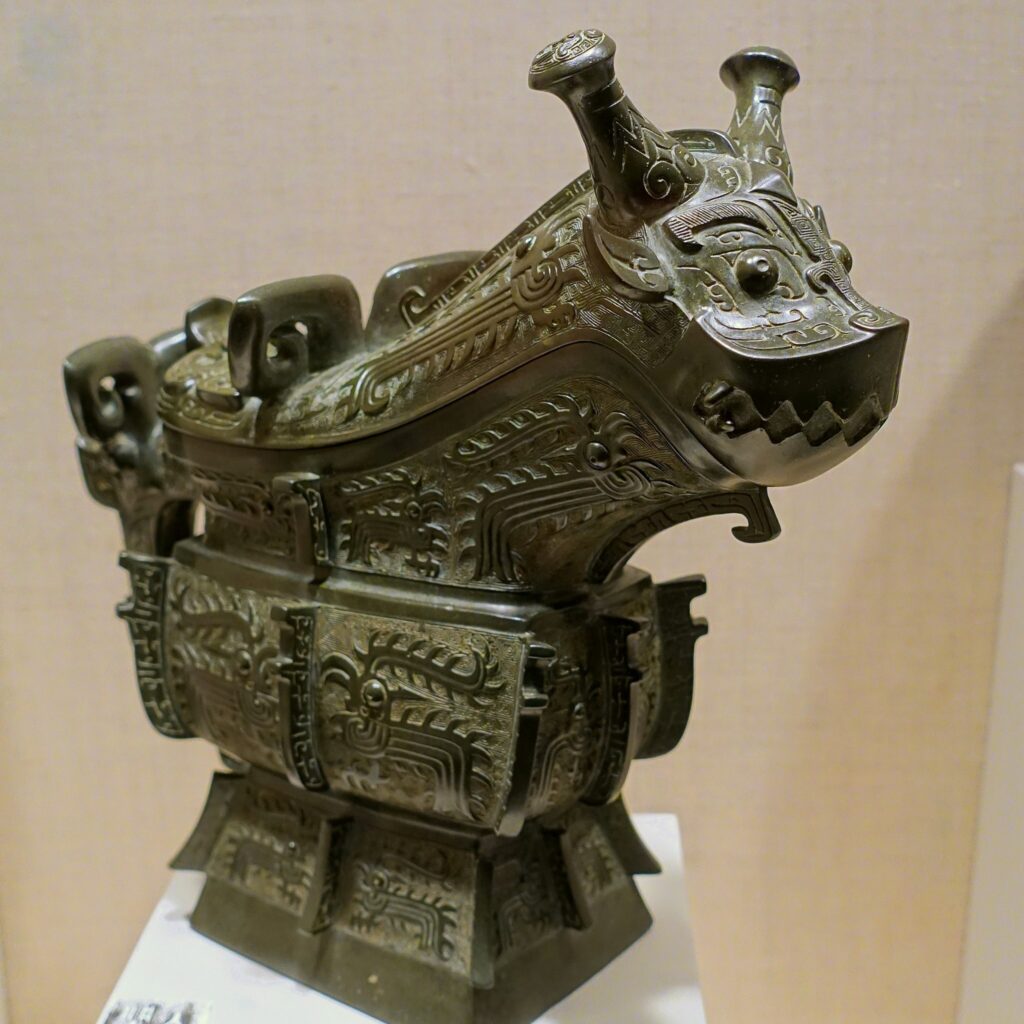 Pouring vessel with dragon-head lid (guang), China, Western Zhou dynasty, 11th century to 771 BC, bronze from the Princeton University Art Museum. Photo from Daderot on Wikimedia Commons.
What began as pure fascination slowly molded into a striking discovery linking modern-day artifact repatriation practices and government censorship in China. But reaching that connection was far from straightforward. In trying to figure out why an ancient Chinese funerary vessel was covered in a distinctly 19th century Japanese lacquer, I found the Guang represented far more than covert art market trade during the Second Sino-Japanese War. Still, in my initial research stage, I wasn't certain what it represented, nor what argument I could posit. To make matters more challenging, our task to enter a scholarly conversation required not regurgitating existing claims, but staking new ones.
Selecting my sources was crucial and challenging. One of our sources was required to be philosophical; though it might have been more intuitive to draw from an art theorist's perspective tying artifacts and their cultural context, I thought choosing a source without a direct connection to art would make for a more unique argument. As a result, I chose economist Claude-Frédéric Bastiat's Economic Harmonies without quite seeing where it would fit into my argument. In addition, I had trouble juggling my sources that now spanned several disciplines (art history, East Asian studies, economics, and international law).
My D2 feedback confirmed my concerns—without fully understanding how I wanted to utilize my sources, I lacked a clearly-defined motivating question. I was on the verge of scrapping Bastiat's perspective, but Professor Ljung countered that there was potential I could draw upon by shifting the lens through which I viewed Bastiat's text. Her suggestion of mapping the connections between my scholars was critical—doing so revealed new perspectives through which I could draw a richer argument. I asked myself clarifying questions: what role is each scholar playing? Are they here to present new information? Contradict a widely-held belief? Could I take two sources and generate a crossbreeding Gaipa move?
In conjunction with these questions, I drew a roadmap through my intended argument. A key step was adjusting my vague, uncertain use of Bastiat to a specific, intentional assessment of ownership and utility. Doing so drove me to another perplexing phenomenon: a recent surge in Chinese individuals buying back artwork, rather than the country as a whole following internationally established repatriation processes. The result was a new paper with a two-fold argument—that alternative practices of settling cultural claims on art both fulfill the individual's desire to connect with a longstanding cultural history and serve as a political stance against a government that campaigned to erase that history for decades.
Though I can't say I've mastered the art of entering scholarly conversations, I was more willing to take risks and explore new angles in later papers. I feared the revision process because it meant I would have to confront the weak connections between sources in my drafts, but the rigorous revisions and continual research process led to a stronger, more worthwhile argument. I owe much of this growth to Professor Ljung who ended our semester with the wish that Writing Seminar could be a year-long course. Her goal was to help us become confident writers, and she had only just begun to see the budding confidence in our writing.
The research process might be intimidating and Writing Seminar has the reputation of being challenging, but it is rewarding and eye-opening. My research led me to realize my passion for art history and East Asian studies, which has since inspired me to become a PUAM student tour guide and take several courses in these areas. To any first-year student, or to anyone who is embarking on their journey with research, best of luck with all of your endeavors!
— Alexis Wu, Engineering Correspondent