As I was reading through old PCUR posts, I came across PCUR Alumni Taylor Griffith's 2017 post on Productivity Apps and managing your work. With the continuous development of new organization and productivity apps, it can be challenging to find what works best for you. Though some are fierce Google Calendar or sticky note users, I wanted to share three (free!) apps I've found to be incredibly useful.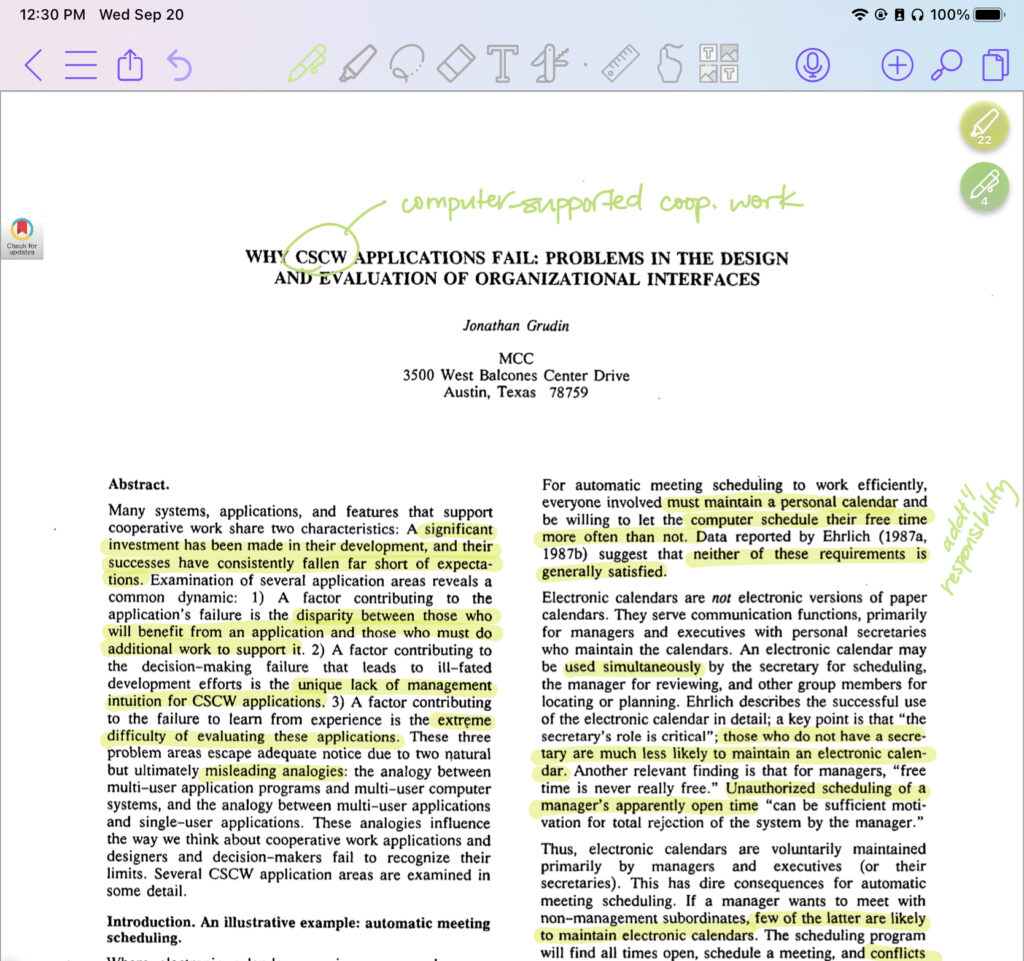 Example of how I annotate readings with CollaNote
1. CollaNote
If you're searching for a free, easy-to-use note-taking iPad app, look no further! Since my first year, I've been using CollaNote for annotating slides and readings, creating quick to-do lists, drawing mind maps, and so much more. The pen and highlight features feel extremely natural and you can pin favorite tools to the right-hand side of your screen for ease of access.
Whether my notes are typed or handwritten usually depends on the course. For classes with fairly involved calculations, I've found that handwriting feels more natural and allows me to easily rearrange and delete parts of my solutions. Even for classes where problem sets are typed, it can be extremely helpful to work through the brainstorming and problem solving phases in CollaNote rather than on looseleaf scratch paper, so that your notes and thought processes can be quickly accessed and reviewed at a later time.
It can quickly become disorganized when you have lecture slides, readings, problem sets, and notes to keep track of. However, I like to tidy up with folders. I create one folder for each of my classes, and within a course's folder create additional subfolders for lecture notes and readings. For files that I haven't finished reading or reviewing, I leave them outside my folders so I remember to go back to them. Unlike some other apps that may have limitations on how many files you can create with the free tier, CollaNote allows you to create and import as many files and PDFs as needed.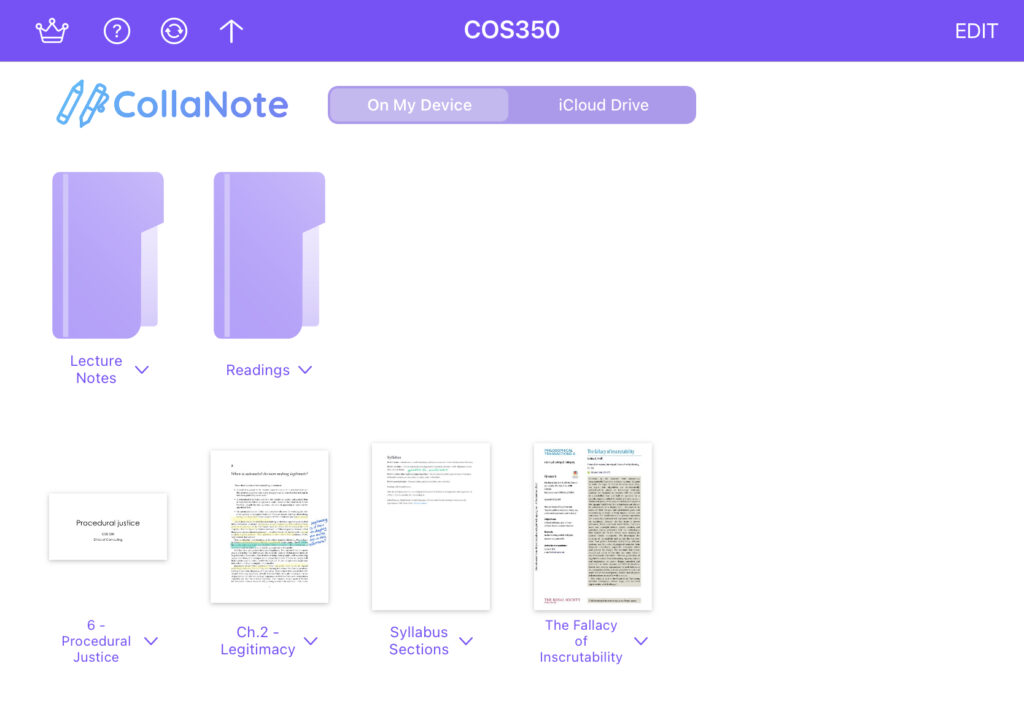 Organizing my COS350 notes with subfolders in CollaNote
Though this is by no means an exhaustive list of all the fantastic features CollaNote offers, I'd highly recommend trying it out and seeing what works best for your note-taking needs!
2. Minimalist
Sometimes, you just want a clean to-do list that you can access from all your devices. Minimalist is a simple, yet still useful, way of keeping track of what I need to complete. By clicking "Add task," the user can easily create a new task. It also has four predefined deadline options: "Today," "Tomorrow," "Next Week" (the following Monday), and "No Due Date." As in the example below, deadlines will turn red if they are unfinished, serving as a great reminder to complete lingering tasks. A downside for students who want to compile all their assignments by due date is that the software does not allow for the user to enter specific dates; because of this, I would consider Minimalist more of a day-to-day planner that zooms in on important tasks for a particular day or two, rather than an all-needs-in-one to-do list app. However, I've more or less circumvented the dates issue by adding in the due date alongside the task name.
The app also keeps track of all completed tasks in a separate section, so they don't clutter the main to-do list. You can also create multiple to-do lists, which will be cleanly labeled in a left hand menu. Overall, it's a clean and effective process that keeps me on task and helps me ensure that I've met my deadlines.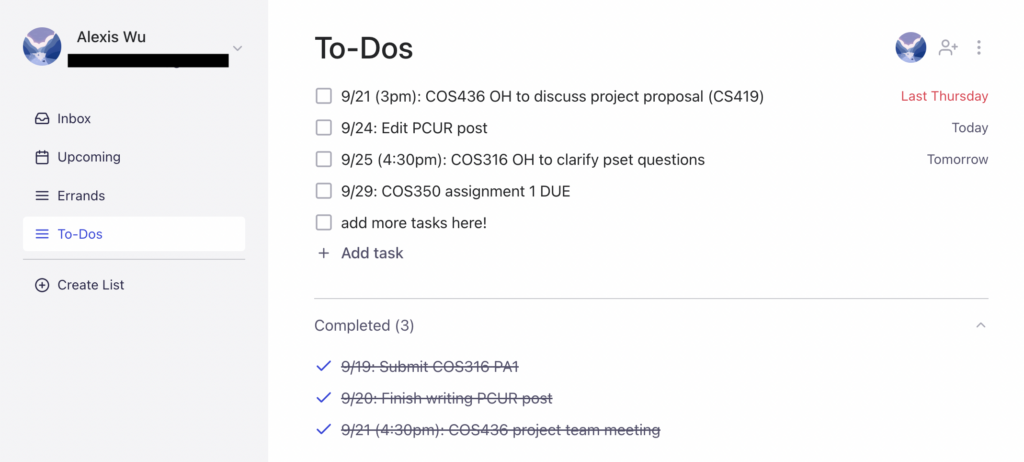 Example of how I use Minimalist on a daily basis
3. Tweek
If you would like a more visual to-do list that splits up tasks by date, I'd recommend checking out Tweek. It feels like a blend between a to-do list and a calendar:

Example of how I use Tweek to organize my to-dos
I typically throw all my tasks into Minimalist so I know I have everything written down and can check them off when completed. However, the downside of a pure to-do list like Minimalist is it can be challenging to determine whether I'm overloading my schedule with an unreasonable number of to-dos. Instead, Tweek helps me gauge how much time each task may take. By clicking on a Tweek to-do list item, you can also add additional subtasks, notes, and links without adding clutter to the overview. If I wasn't able to finish a task, it's also super easy to drag tasks to a different day. You can also indicate the priority of the task with the feature to color a task red or yellow. In the example above, I've marked my Wednesday CLA227 precept yellow to remind myself that I have a quiz I need to prepare for.

Example of how I use the notes feature (quiz reminders and what readings to complete)
As Taylor had mentioned, finding the right apps and technologies that work best with your preferences and study habits may take time, but can be incredibly valuable and rewarding. If you have any suggestions on productivity and study apps that you've found helpful, feel free to reach out to me at alexiswu@princeton.edu—I'd love to hear about them. Wishing you the best with your studies!
— Alexis Wu, Engineering Correspondent