Last year, I wrote an article on The Creation of TigerResearch, a platform created by three Princeton undergraduates (Vivek Kolli '24, Eric Ahn '24, and Alex Zhang '24) to help students to easily discover Princeton professors and learn more about their research focuses. Through my interview with Vivek, I was able to see how students at Princeton take their entrepreneurial ideas and bring them to life, creating new solutions that help other students become more engaged with research on campus.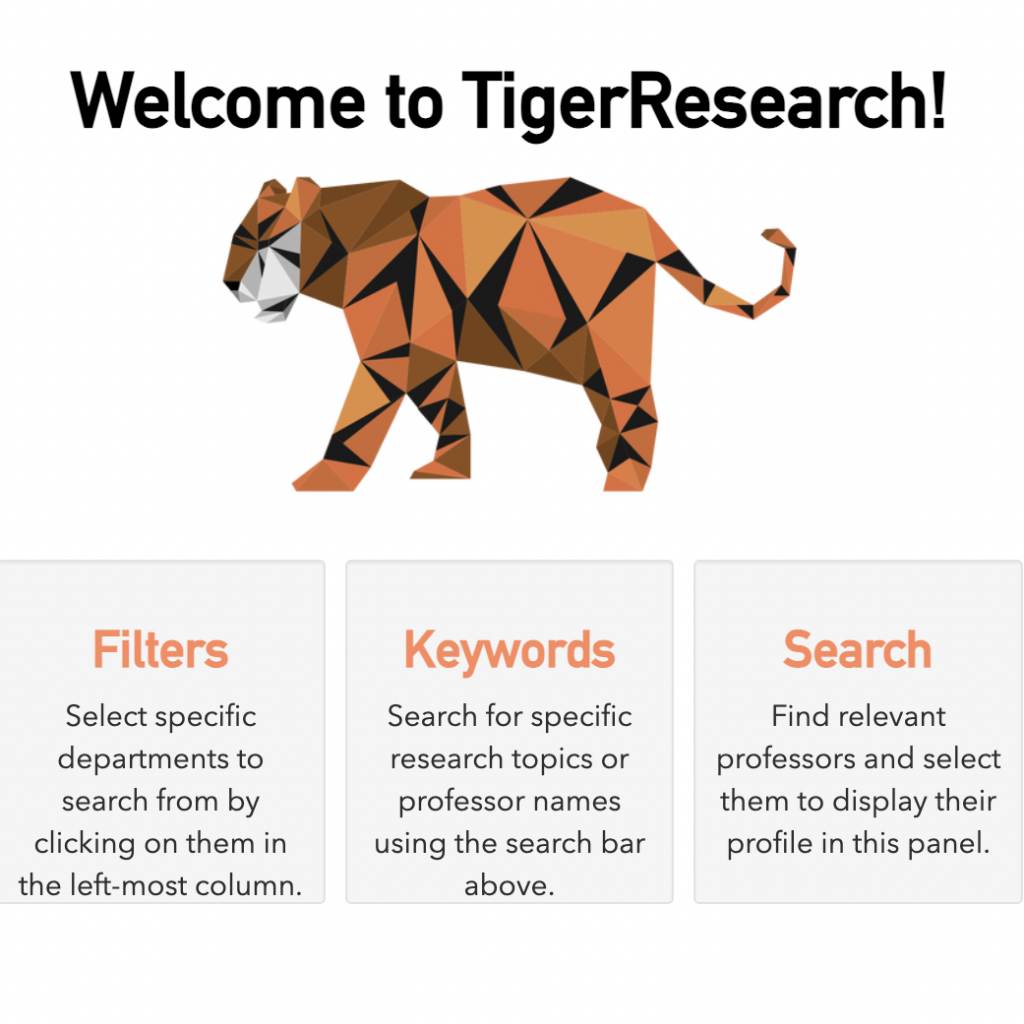 TigerResearch homepage welcome message
This year, as I continue to explore my own research interests, I find myself returning to TigerResearch. I'm interested in learning more about my professors' research backgrounds, particularly in what their latest and current work is on and how it relates to the discussions and material we cover in class. So, I wanted to take this opportunity to delve deeper into TigerResearch.
TigerResearch's homepage displays a list of Princeton professors, alphabetically ordered by last name. Something I love about the platform is how it lists the professor's department and research keywords to help you better understand their research topics, interests, and methods. However, it can be challenging to sift through hundreds of professors, especially when you're only interested in a few departments.
A feature that may not be immediately obvious is that students can select multiple departments in the left-hand menu. This can be incredibly helpful for students who may still be deciding on a major, or those who may be pursuing a minor or certificates in different departments. For example, for a student who might be majoring in Civil and Environmental Engineering (CEE) and working toward a certificate in Architecture and Engineering could select both the CEE and ARC departments.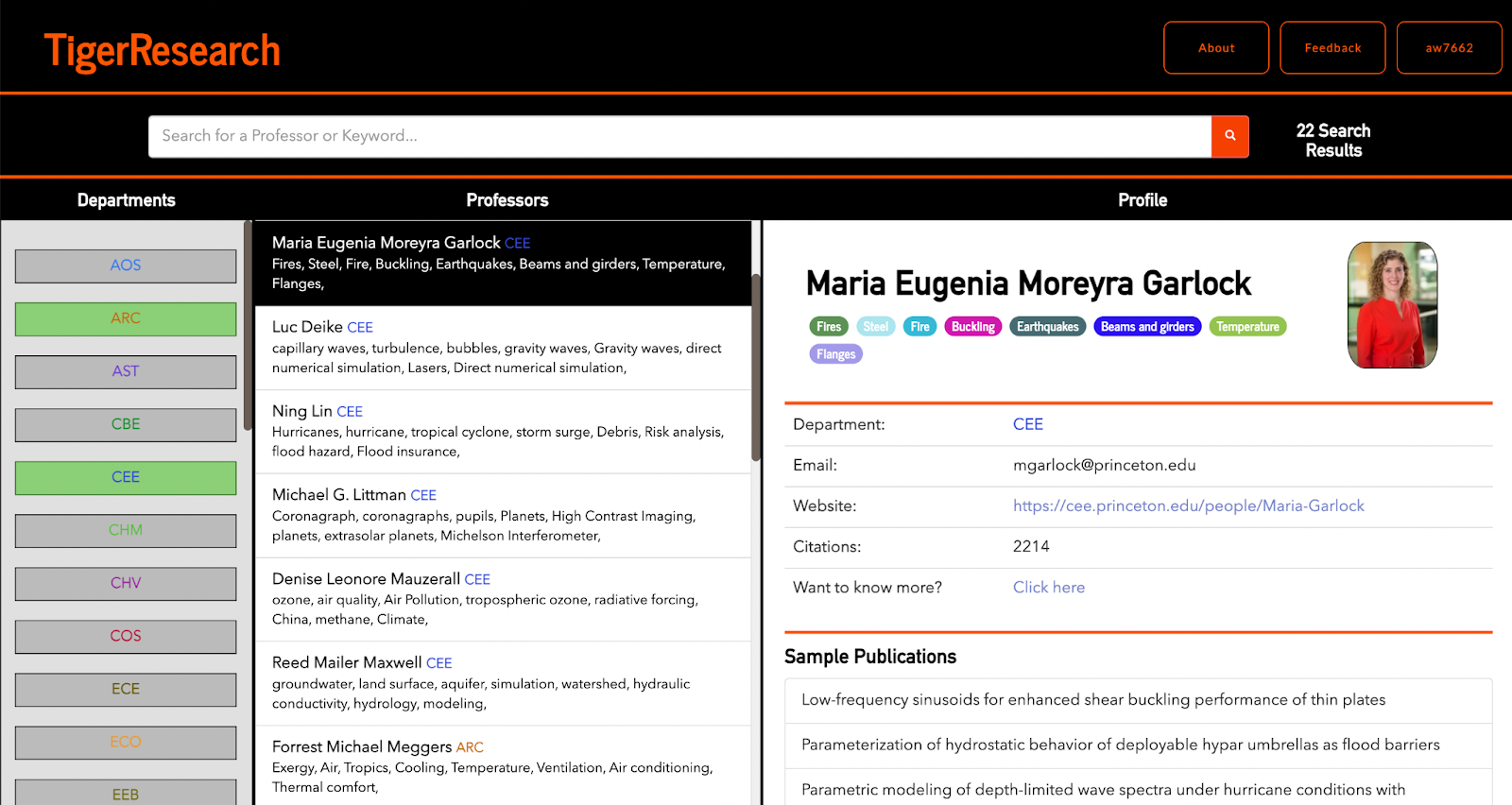 Sample view of TigerResearch with multiple departments selected
As a Computer Science (COS) major, I typically click on the COS department in the left-hand column, which then filters the main list and only displays professors in the selected department. I'm currently taking COS350: Ethics of Computing, taught by Professor Arvind Narayanan, and interested in reading more about the research work Professor Narayanan has done. I can easily learn more by selecting his name—immediately, I'm presented with his website, a "Click here" link that conveniently routes users to a more general Google search of the professor, and the titles of some of his past publications.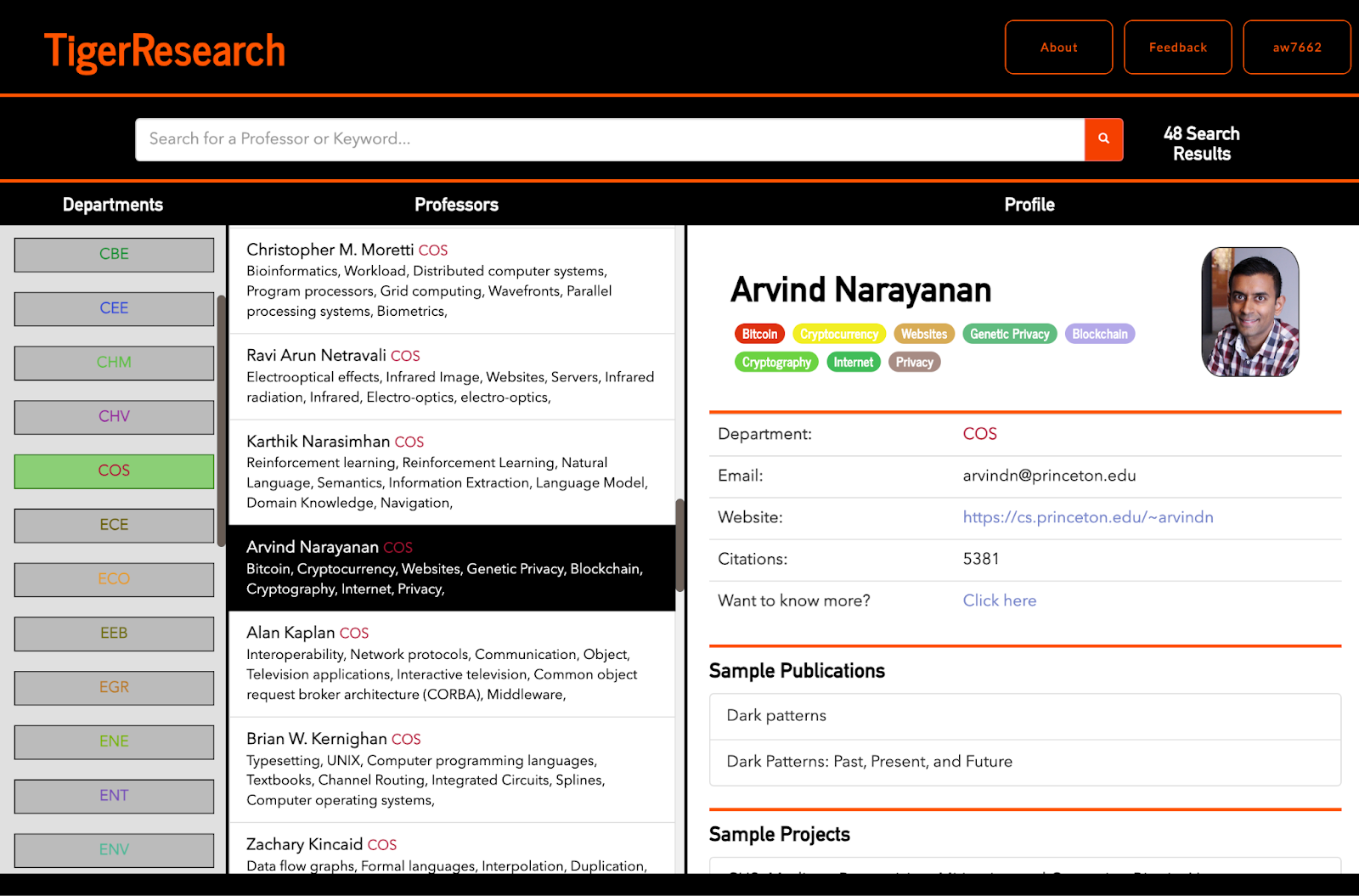 Sample view of TigerResearch, with Professor Narayanan's research background
It is important to note that not all faculty members may provide sample projects or suggested coursework. However, sample projects typically refer to past or ongoing awards (such as grants) that professors have received from the National Science Foundation (NSF). For example, the third entry—CAREER: Measurement, Analysis, and Novel Application of Blockchains—under Sample Projects below includes detailed information about the grant, an abstract providing an overview of what the research aims to do, and a list of publications produced with the award.
What's particularly exciting is that TigerResearch highlights any courses that the professors recommend you take before doing research with them, as well as the names of other professors who are doing research in similar topics.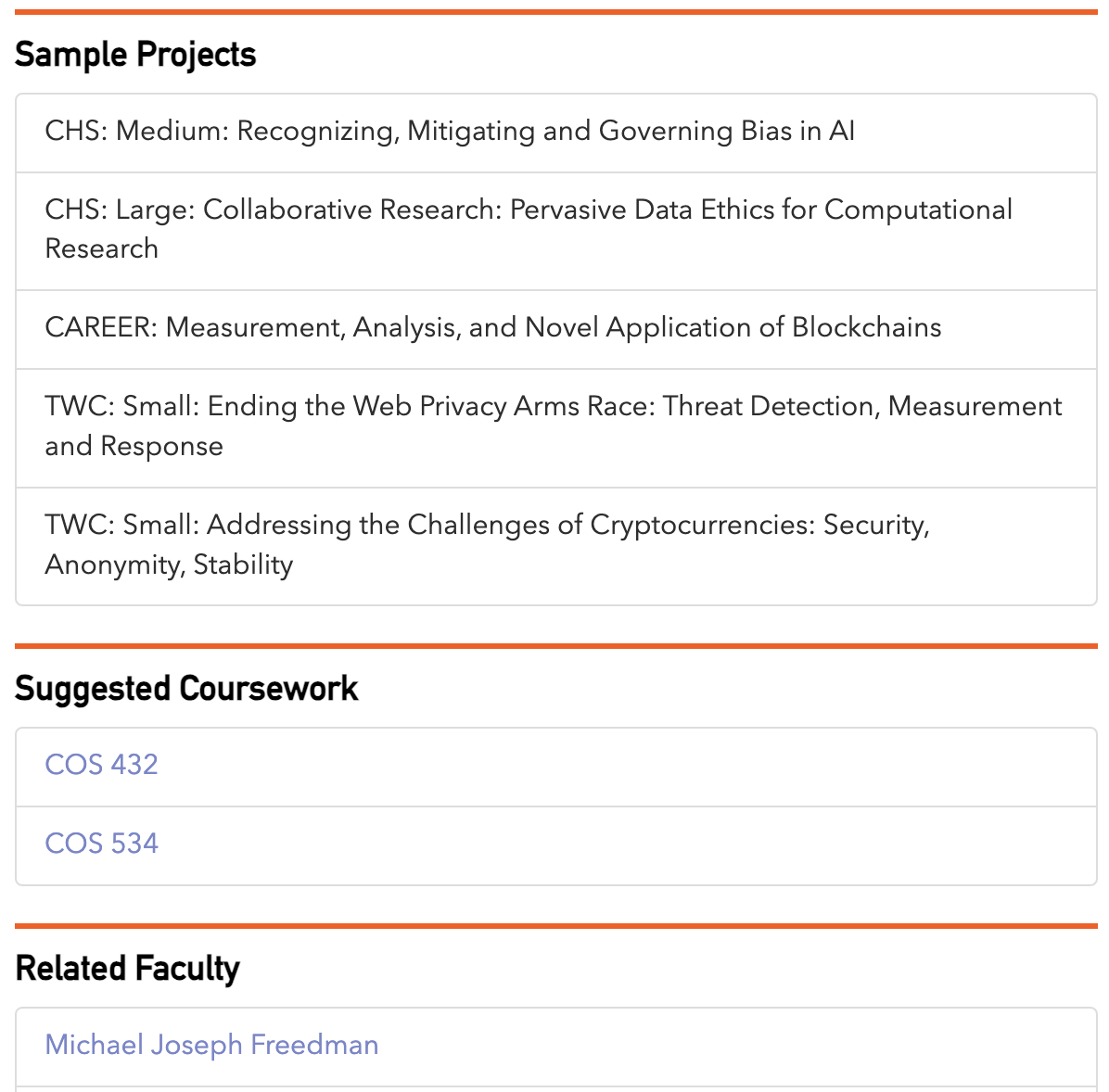 View of the sample projects, suggested coursework, and related faculty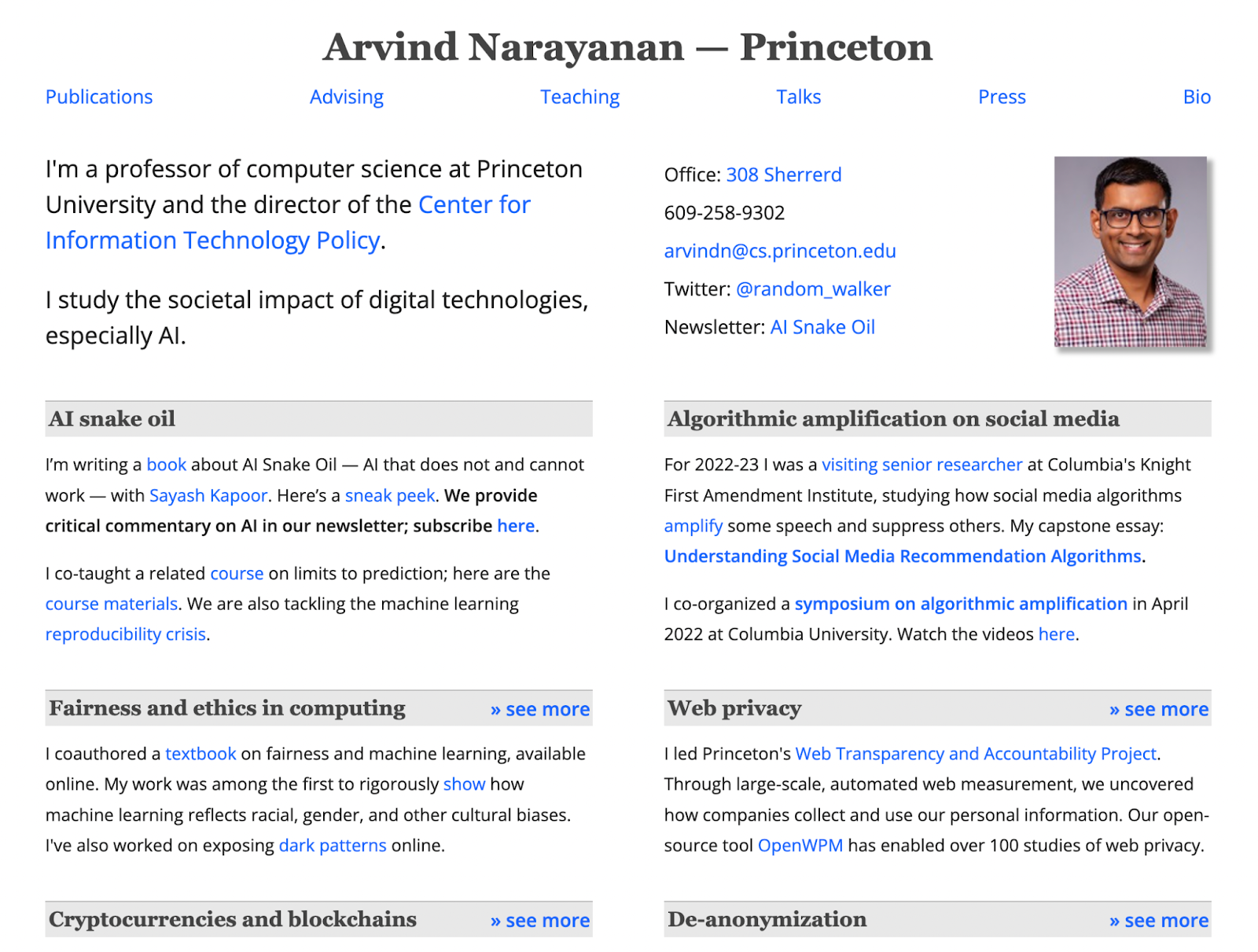 View of Professor Narayanan's website, linked from TigerResearch
I hope this was a helpful introduction to TigerResearch, and provided valuable insight into how you could navigate this resource. In addition to using TigerResearch, I would highly recommend visiting the websites hyperlinked under a professor's profile; these websites typically provide a detailed history of their published work, what courses they have taught, if they lead any labs, and if they are currently open to working with undergraduate or graduate students. TigerResearch is only one of the many fantastic resources at Princeton that help students discover their research interests—if you're interested in learning more, you're in the right place! Whether you want to learn more about Princeton's research programs or just what research could look like on Princeton, PCUR correspondents share a wealth of information on those opportunities. Happy reading!

— Alexis Wu, Engineering Correspondent