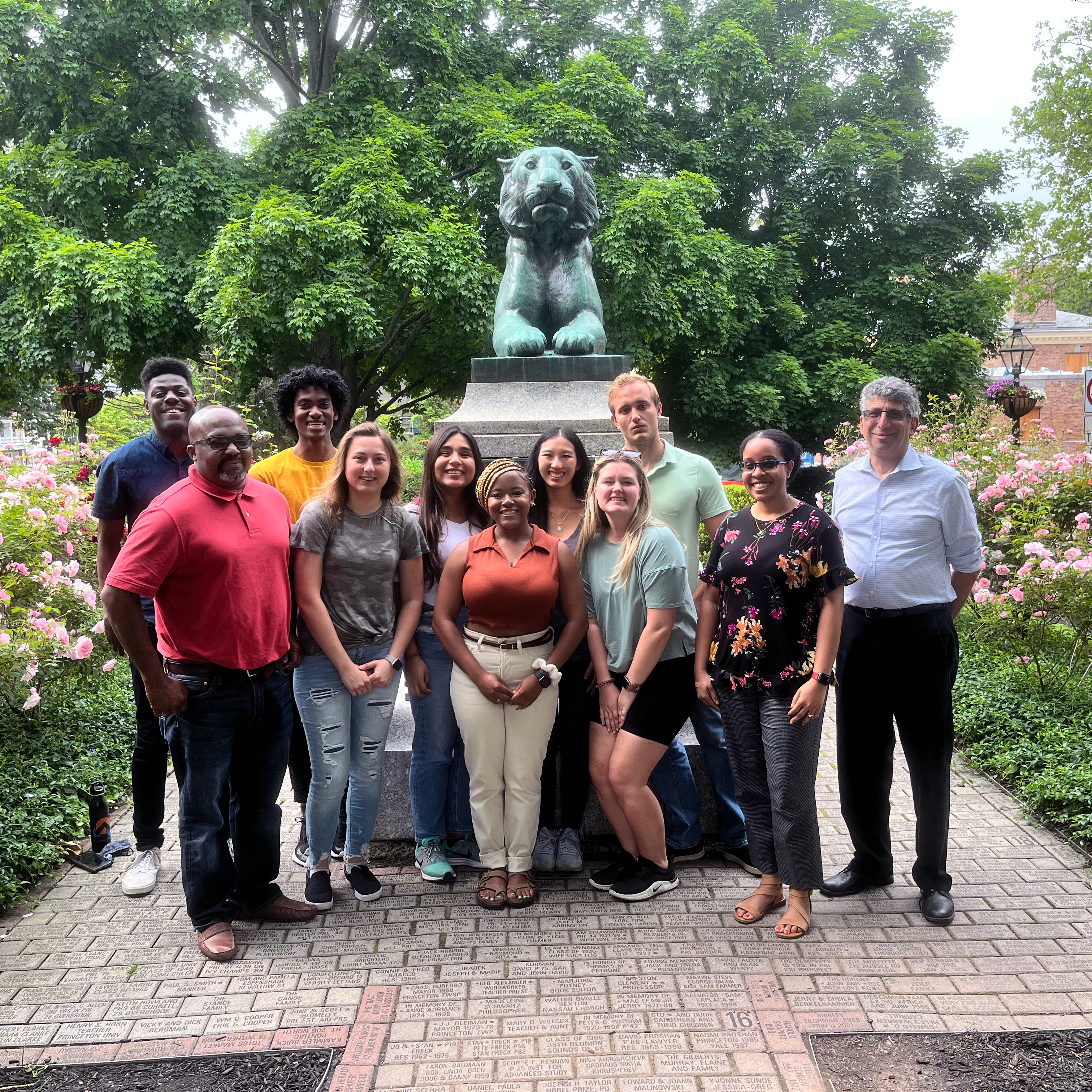 Delaan Nedd '25 (second from the left in the top row) and the Bocarsly Lab. Photo from Bocarsly Lab News.
As we enter December, it seems like summer is far, far away, but it's a good time to start thinking about summer plans if you haven't already. If you're interested in research, there are numerous summer research programs whose applications are currently open (the Office of Undergraduate Research has a great list here).
For students with no experience with research, just getting started can be daunting. I wanted to hear from students whose first hands-on exposure to research was through Princeton's research programs, so I interviewed Delaan Nedd '25. Delaan spent this past summer in the Princeton Department of Chemistry's Summer Undergraduate Research Fellowship in Chemistry (SURF-C) program. SURF-C is a nine-week program for first and second-year undergraduate students to work on cutting-edge chemistry research alongside Princeton faculty, post-docs, graduate students, and other undergrads. What's exciting is that the research Delaan contributed to during SURF-C was recently published in the Royal Society of Chemistry's Dalton Transactions journal—check out the full paper here!
In this interview, we discuss his experience with on-campus summer research both in and out of the lab, as well as how the summer further informed his academic and career interests.
Alexis (A): How did you find out about the SURF-C program? How did you choose your research topic?
Delaan (D): I wanted to spend my summer doing something related to climate action. I talked to Dr. Sonja Francis (one of the chemistry lecturers) about summer opportunities on campus, and she recommended the SURF-C program. As a part of the program application, you get to suggest which professors you'd like to work with, so I chose Dr. Andrew Bocarsly's Lab. Dr. Bocarsly teaches the General Chemistry sequence, so I was familiar with his work—his lab focuses entirely on CO2 utilization, and Dr. Bocarsly did a lecture on his work.
I was accepted, and the internship ran from late May to the end of July of 2022. I worked with third year Graduate Student Kailyn Cohen, who provided a lot of guidance throughout the project. Some of the other groups had multiple members, and there was a lot of collaboration within the lab. As a quick overview to our research, we studied a mechanism that reduced CO2 to carbon monoxide using manganese complexes. The two months went by really quickly and publishing a paper was not an expectation (it's pretty abnormal), but I'm very grateful that I got that opportunity.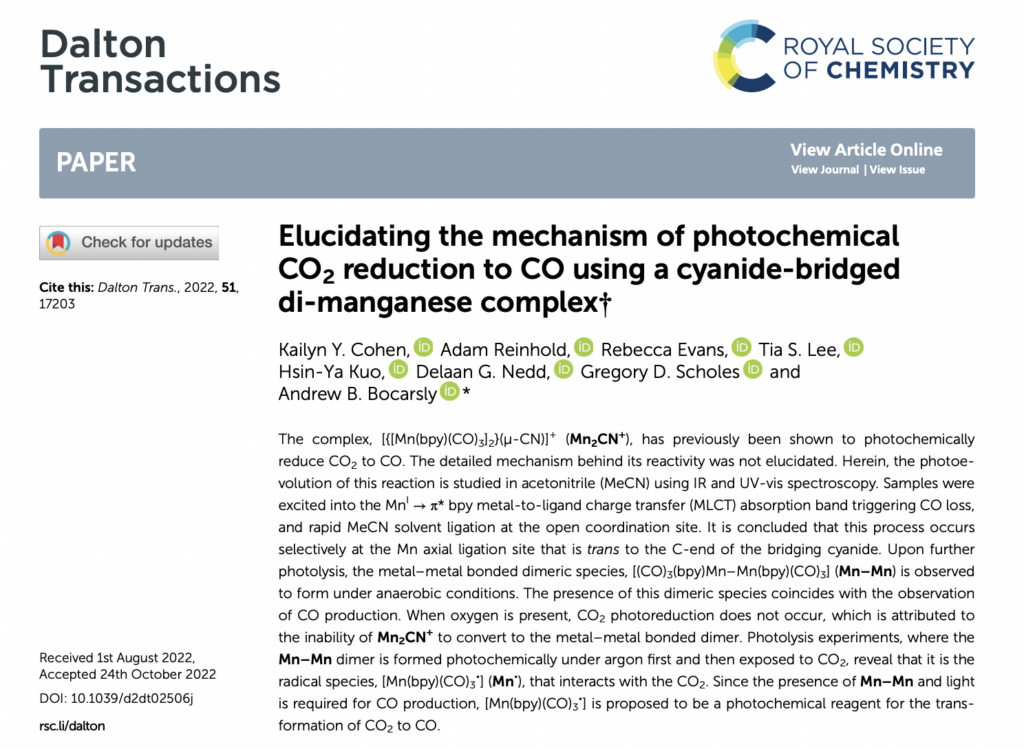 Abstract of the paper Delaan contributed to through his SURF-C research.
A: What Princeton courses or prior research experiences do you feel have prepared you for your research?
D: I went into the program with no research experience. I was really happy to do this even though I'm not a chemistry major, since I previously debated between majoring in chemistry and CBE. I had a good lab program at home, similar to the chemistry labs here, which involved applying the curriculum to practical work, so even though what I was learning every day was new, I could pick it up quickly. CHM207: Advanced General Chemistry and CHM202: General Chemistry II are the two courses that translated best to the research I was working on.
A: What was your day-to-day experience like?
D: I lived on campus for the summer. There were probably 20-30 people in the program, all housed in Spelman, one of the upperclassmen independent housing apartments. I stayed in a quingle (a quad-single), so I had three roommates. I was originally worried that I would be lonely on campus, but it was really nice—there were a lot of people still on campus.
My daily schedule was waking up, going to the Frick Chemistry Laboratory, looking at the progress if we left a reaction overnight, and then discussing with Kailyn our goals for the day. The lab hours were flexible, and it really depended on what goes on in the lab. On some days, we'd do literature reviews to see how to do a certain experiment or process, and other times you'd just have to wait for reactions to finish. Sometimes, it's a short day (around 3 hours), but other times we'll go 9 hours. What happens in the lab can really determine the work—even if you have something planned, something might surprise you, and then you'd change your trajectory and try something different.
A: Did the experience change or confirm your perspective on what you wanted to pursue after graduation?
D: I knew I wanted to work in climate action, either through research or industry, so that hasn't changed. But I didn't know what the path to getting there would be like. I'm still not entirely sure, but I credit SURF-C for hosting the International Conference for Carbon Dioxide Utilization. I heard from visiting professors from all over the world and saw how their respective fields are merged through their work. It took away the pressure I felt choosing between chemistry and CBE, because I realized it would be pretty easy to jump between the two.
I don't worry about if my major fits into a certain box of "requirements" for the kind of career I'm interested in anymore. It was a shift in my academic perspective.
Academically, chemistry and CBE can work on similar things, and chemical engineering majors should have a solid foundation in chemistry, but CBE is like a scaled-up version of chemistry. Though I loved the experience, I realized I'm not really interested in focusing on chemistry—I want to work on what's after those discoveries in the lab and look at larger systems.
A: What advice would you give to students interested in working in research labs?
D: It's good to just talk to people, especially if you don't know what you want to do. There are so many people here who are open to interacting with you. Sometimes I've gone to a professor's office with an appointment and discussed my interests and where I am currently.
I like to think about what's important to me and what I would like to work on, rather than worrying about how much I know about the topic.
It's just a summer, so instead of fixating on publishing research and having a huge impact, it's okay to just try to learn as much as possible.
Interview responses are edited for clarity and length.
–
I enjoyed hearing from Delaan about his SURF-C experience, especially because despite having not previously worked on any research, he was able to play a role in novel discoveries and contribute to a paper on his findings. My main takeaway from the interview would be to not be afraid of approaching research on campus—there are many summer opportunities that are both interesting and accessible, even for underclassmen. Again, I would highly recommend that students interested in research visit the Office of Undergraduate Research's list of summer opportunities here, and I wish you the best with your endeavors!
— Alexis Wu, Engineering Correspondent