Over the course of the semester, PCURs will reflect on the professors, advisers, and friends who shaped their research experiences. We present these to you as a series called Mentorship in Research. Most undergraduates have met, or will meet, an individual who motivates and supports their independent work. Here, Bennett shares his story.
~~~~~~
When I say "networking," what do you think of?
Affluent, well-dressed extroverts? Annoying emails from the LinkedIn account you signed up for Freshman year (out of a vague sense of professional obligation)? Shallow, self-serving conversations? The old boys' club?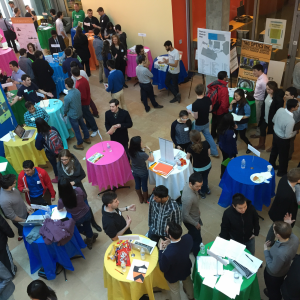 There are a lot of negative associations that spring up around the word "networking." And I understand that – there's definitely something reflexively uncomfortable about conversations where the participants have ulterior motives. As someone who shuns both uncomfortable social interaction and formal wear, it would be understandable if I wrote networking off as an awkward, greedy affair.
But here's the thing – that's not what networking is.
One of the best ways I've heard it put goes as follows: what if instead of calling it "networking" we called it "learning from each other"?
Because that's what networking is. And that's why this post is part of the mentorship series – if you think of networking as finding and consulting mentors, it becomes a lot more approachable and a lot less uncomfortable.
Continue reading Mentorship in Research: What's "networking" all about?