It can be difficult to find the perfect place to write. When I leave my afternoon classes, I often find myself standing on the sidewalk, unsure of where to go next. There are so many study spaces on this campus, but some days nothing feels right. (For some ideas, check out Nanako's post about finding the perfect space for you)
The space where I work matters. And frustratingly, what I need in a study space is in constant flux, depending both on my mood and the type of work I need to get done: energetic spaces for sleepy mornings, quiet spaces for more focused work, and so on. Over my few years at Princeton, I've learned how different study spaces affect me: campus cafes are energizing, but distracting; Firestone carrels are productive, but isolating; and my dorm room puts me to sleep within fifteen minutes—no matter the time of day.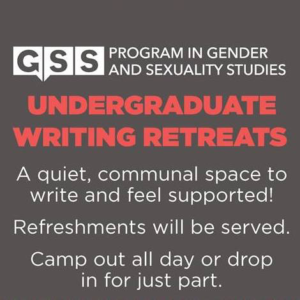 With larger projects like a thesis or final paper, though, it can be even harder to find the right space to write. In my experience, larger projects require more focus and endurance, making it hard to be productive in a loud, busy space. On the other hand, the prospect of extended hours in library isolation is almost always unappealing to me.
Continue reading

The Search for the Perfect Writing Space